The Innis Café is a beloved Innis College institution, serving delicious and freshly made meals, all-day breakfasts, snacks, salads, soups, and sweet treats. And on nice days, you can enjoy your food on the Innis rooftop patio, just above the Café.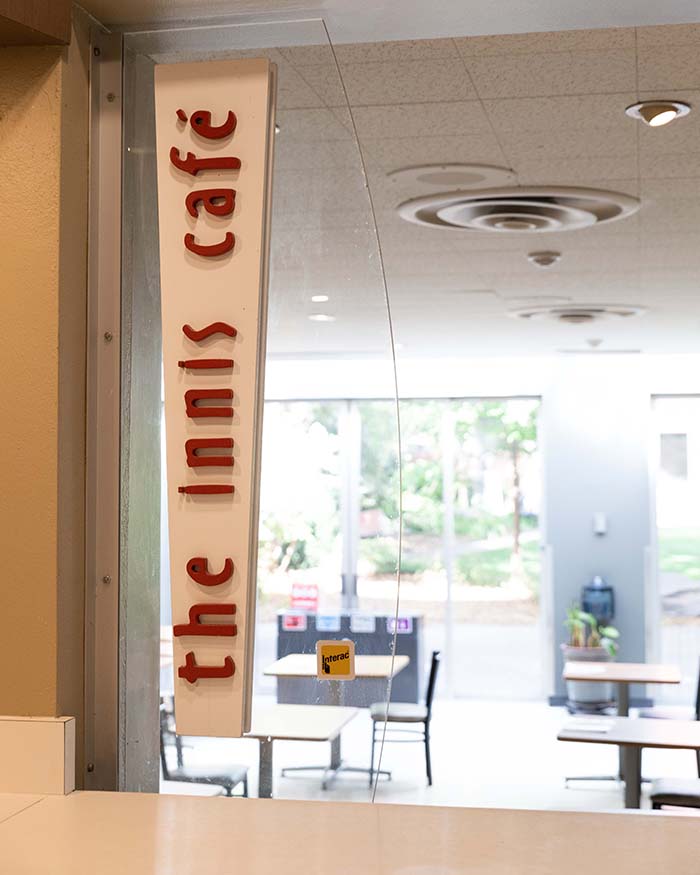 Family-run since its doors opened over two decades ago, the Innis Café is the campus go-to spot for home-style cooking. The Café is also renowned for its made-to-order smoothies and freshly squeezed juices. Student groups and many other campus organizations count on the Café for catering events, both large and small.
Fresh juices and smoothies
Vegetarian, vegan and Halal options
Hot meals, light meals, Lug-a-Mug
Baked goods and treats
TBucks
Patio
Gunash Agar, Innis Café owner (along with her husband and son), is dedicated to making everything from scratch. You'll find daily breakfast and lunch specials, and the always popular chicken kabobs, quesadillas, and burritos. Yogurt smoothies, with their amazing fruit combos, will power you through any early morning class. And stop by for a refreshing just-squeezed juice, packed full of vitamins, antioxidants and all-round deliciousness.
Learn why students love Innis Café
Students feel like the Innis Café is a "home away from home," loving the friendly service and great food. Innis alumni have even sent letters to owner Gunash Agar, thanking her and her family for their long service serving wonderful food. Read more about the Agars – who have PhDs in food science BTW – in The Innis Herald.
Innis Café can cater your next event
Interested in having the Innis Café cater your next student meeting or study group? They have years of experience catering campus events, from snacks to complete meals. Contact them for more info.
The Café is located at 2 Sussex Avenue, in the west wing of Innis College, by the Green.
The Innis Café and washrooms are accessible.
Monday – Friday, 8am – 5pm
Saturday and Sunday: CLOSED
If you have questions for the café, you can reach them by email or phone.