From environmental disasters and ecological collapse to climate change denial and celebrations of nature and wilderness, we will explore the diverse ways humans imagine and write about the natural world and the consequences of such writing.
We will study a variety of nonfiction texts, images, and videos about ecology, the environment, nature, wilderness, and sustainability as we consider what these terms mean. From the 19th century American transcendentalists to 20th century ecologists, and 21st century scientific, Indigenous, feminist, and anti-racist perspectives, we will analyze the many ways that humans use writing to argue for certain ways of seeing and interacting with our planet and the creatures that inhabit it.
Through weekly reading, written reflections, and discussion, students will hone their deep reading, research, and writing skills.
Get to know the professor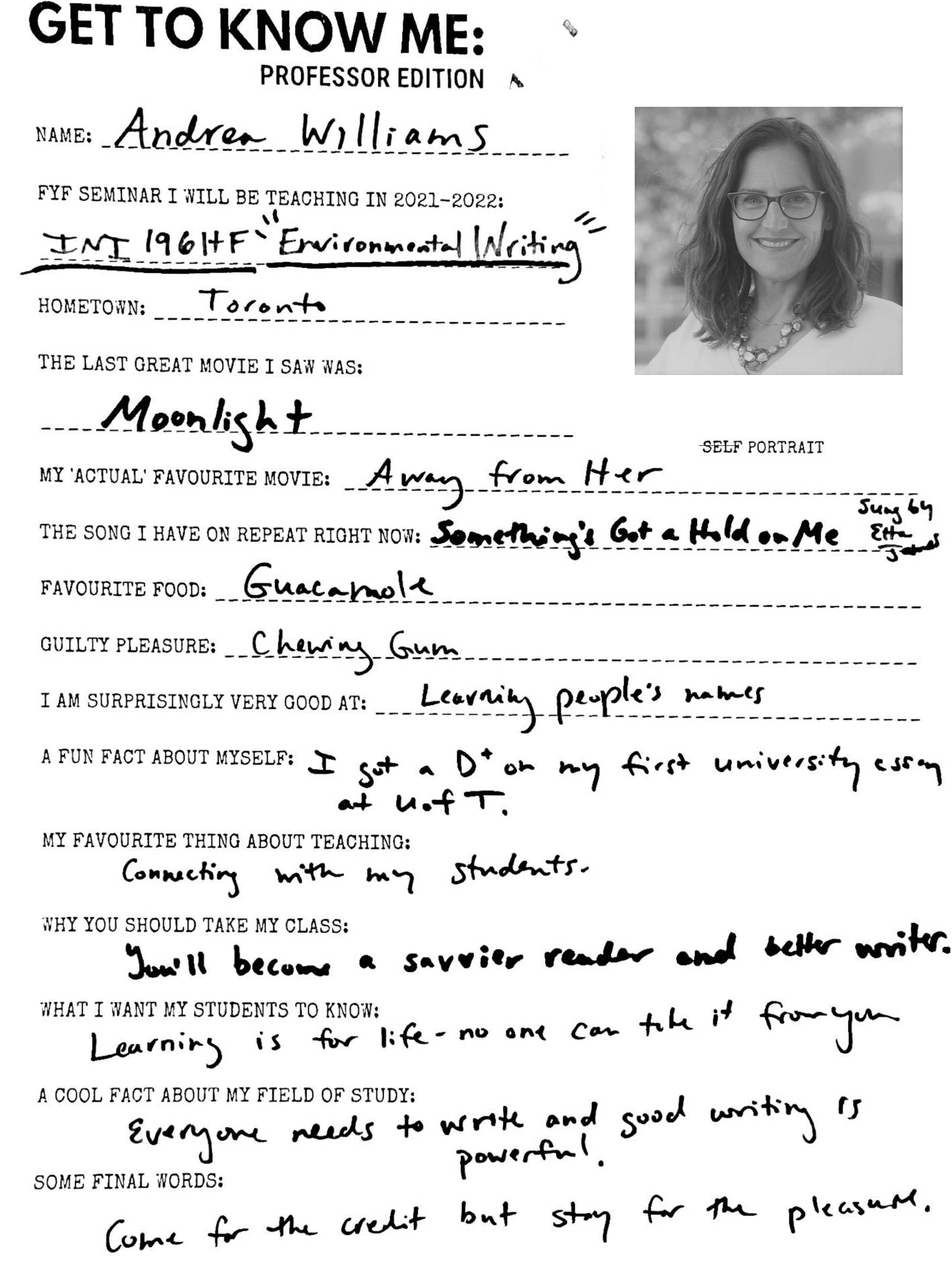 NAME: Jeff Rosenthal
INNIS FYF SEMINAR I WILL BE TEACHING IN 2020-2021: Probabilities Everywhere
HOMETOWN: Scarborough
THE LAST GREAT MOVIE I SAW WAS: Green Book
MY ACTUAL FAVOURITE MOVIE: Blues Brothers
THE SONG I HAVE ON REPEAT RIGHT NOW:  Allentown (by Billy Joel)
FAVOURITE FOOD: Peanut Butter
GUILTY PLEASURE: Watching Star Trek reruns.
I AM SURPRISINGLY VERY GOOD AT: Performing musical accompaniment to comedy shows.
A FUN FACT ABOUT MYSELF: I was born on Friday the 13th.
MY FAVOURITE THING ABOUT TEACHING: When a student is excited by something they learn.
WHY YOU SHOULD TAKE MY CLASS: To learn the many connections of probabilities to our lives.
WHAT I WANT MY STUDENTS TO KNOW: How to use probability reasoning to better understand the world around us.
A COOL FACT ABOUT MY FIELD OF STUDY: Statistics is more popular than ever, with skyrocketing student enrollments and many job opportunities.
SOME FINAL WORDS: I hope to see you in my class!