With the completion of the human genome sequence, we now have access to more information than ever before about our genetic make-up. This course addresses topics such as what are genes, how are they identified and how does knowledge about genes impact society.

Students will learn basic concepts in genetics. Using this conceptual foundation, the significance of genomic research for understanding human biology, and the social consequences that may result from it, will be discussed.

Evaluation is based on class discussions, homework, oral presentation and written assignments.
Get to know the professor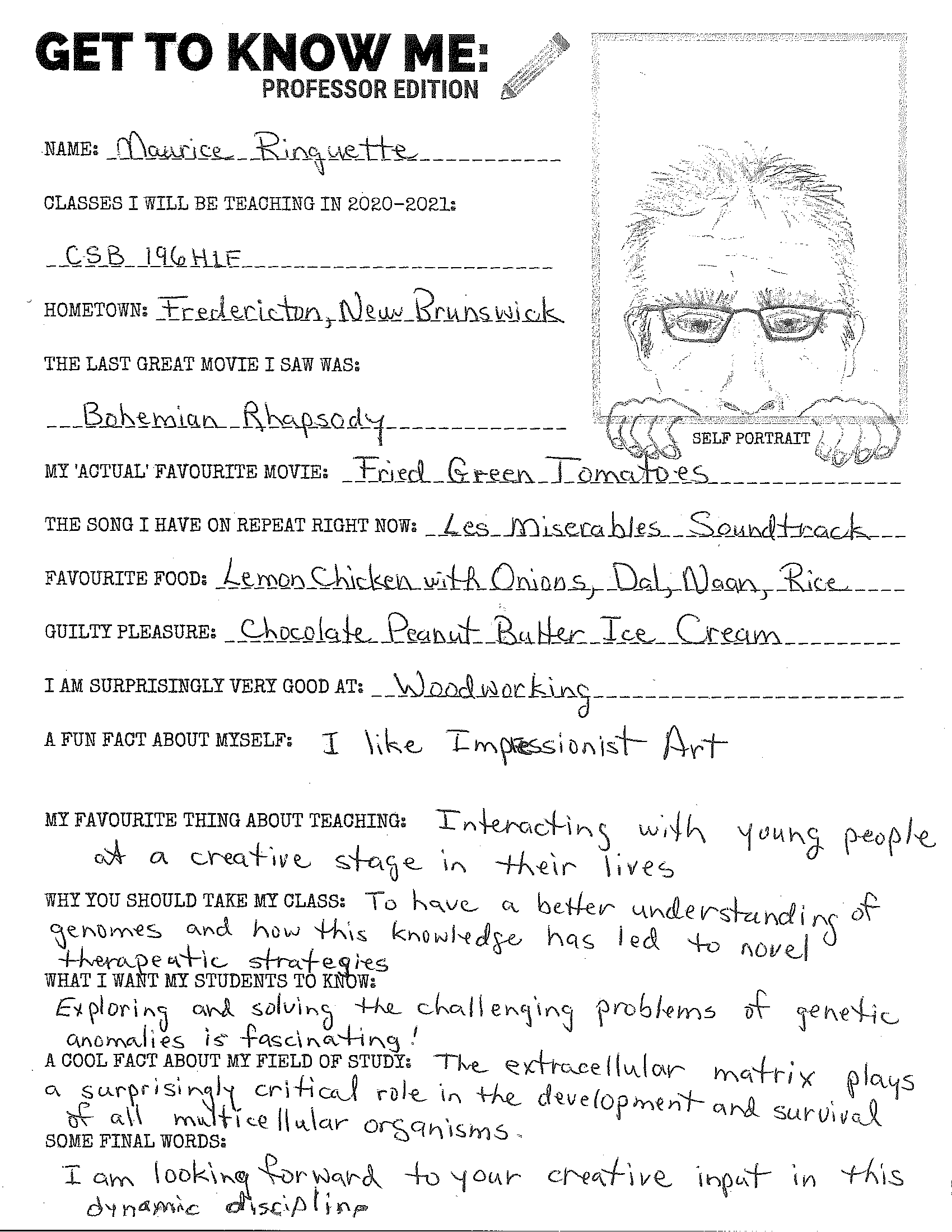 NAME: Maurice Ringuette
INNIS FYF SEMINAR I WILL BE TEACHING IN 2020-2021: CSB196H1S: Genes, Genomes and Us
HOMETOWN: Fredericton, New Brunswick
THE LAST GREAT MOVIE I SAW WAS: Bohemian Rhapsody
MY ACTUAL FAVOURITE MOVIE: Fried Green Tomatoes
THE SONG I HAVE ON REPEAT RIGHT NOW: Les Miserables Soundtrack
FAVOURITE FOOD: Lemon chicken with onions, dal, naan, rice
GUILTY PLEASURE: Chocolate peanut butter ice cream
I AM SURPRISINGLY VERY GOOD AT: Woodworking
A FUN FACT ABOUT MYSELF: I like Impressionist art.
MY FAVOURITE THING ABOUT TEACHING: Interacting with young people at a creative stage in their lives.
WHY YOU SHOULD TAKE MY CLASS: To have a better understanding of genomes and how this knowledge has led to novel therapeutic strategies.
WHAT I WANT MY STUDENTS TO KNOW: Exploring and solving the challenging problems of genetic anomalies is fascinating!
A COOL FACT ABOUT MY FIELD OF STUDY: The extracellular matrix plays a surprisingly critical role in the development and survival of all multicellular organisms.
SOME FINAL WORDS: I am looking forward to your creative input in this dynamic discipline.