The majority of refugees and asylum seekers today live in cities, above all, in the Global South. This course will introduce and critically assess key theories and concepts on forced migration in relation to cities from a global perspective.

By drawing on a wide range of literature and case studies from around the world, the course will explore and compare cities across the Global South and North around questions of law, governance, and politics related to urban refugees and asylum seekers.
Get to know the professor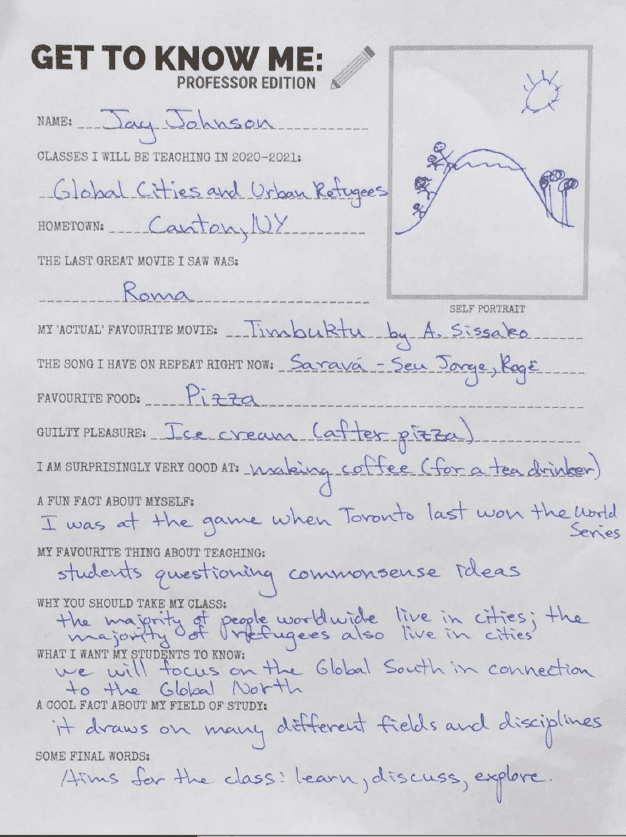 NAME: Jay Johnson
INNIS FYF SEMINAR I WILL BE TEACHING IN 2020-2021: Global Cities and Urban Refugees
HOMETOWN: Canton, NY
THE LAST GREAT MOVIE I SAW WAS: Roma
MY ACTUAL FAVOURITE MOVIE: Timbuktu by A. Sissako
THE SONG I HAVE ON REPEAT RIGHT NOW: Saravá – Seu Jorge and ROGÊ
FAVOURITE FOOD: Pizza
GUILTY PLEASURE: Ice cream (after pizza).
I AM SURPRISINGLY VERY GOOD AT: Making coffee (for a tea drinker).
A FUN FACT ABOUT MYSELF: I was at the game when Toronto last won the world series.
MY FAVOURITE THING ABOUT TEACHING: Students questioning commonsense ideas.
WHY YOU SHOULD TAKE MY CLASS: The majority of people worldwide live in cities; the majority of refugees also live in cities.
WHAT I WANT MY STUDENTS TO KNOW: We will focus on the Global South in connection to the Global North.
A COOL FACT ABOUT MY FIELD OF STUDY: It draws on many different fields and disciplines.
SOME FINAL WORDS: Aims for the class: learn, discuss, explore.