Vampires are among the most fascinating figures of popular culture. Since Bram Stoker's Dracula (1897) – and, in fact, well before that – they have been haunting the human imagination in various shapes and forms. This course examines the figure of the vampire as a potent cultural metaphor in the German context and beyond, showing how every age embraces the vampires it needs and gets the vampires it deserves.

The goal is to teach students to reflect critically and independently on issues of self and society and to develop a structured approach to critical thinking in general.

All readings and class discussions will be in English.

Get to know the professor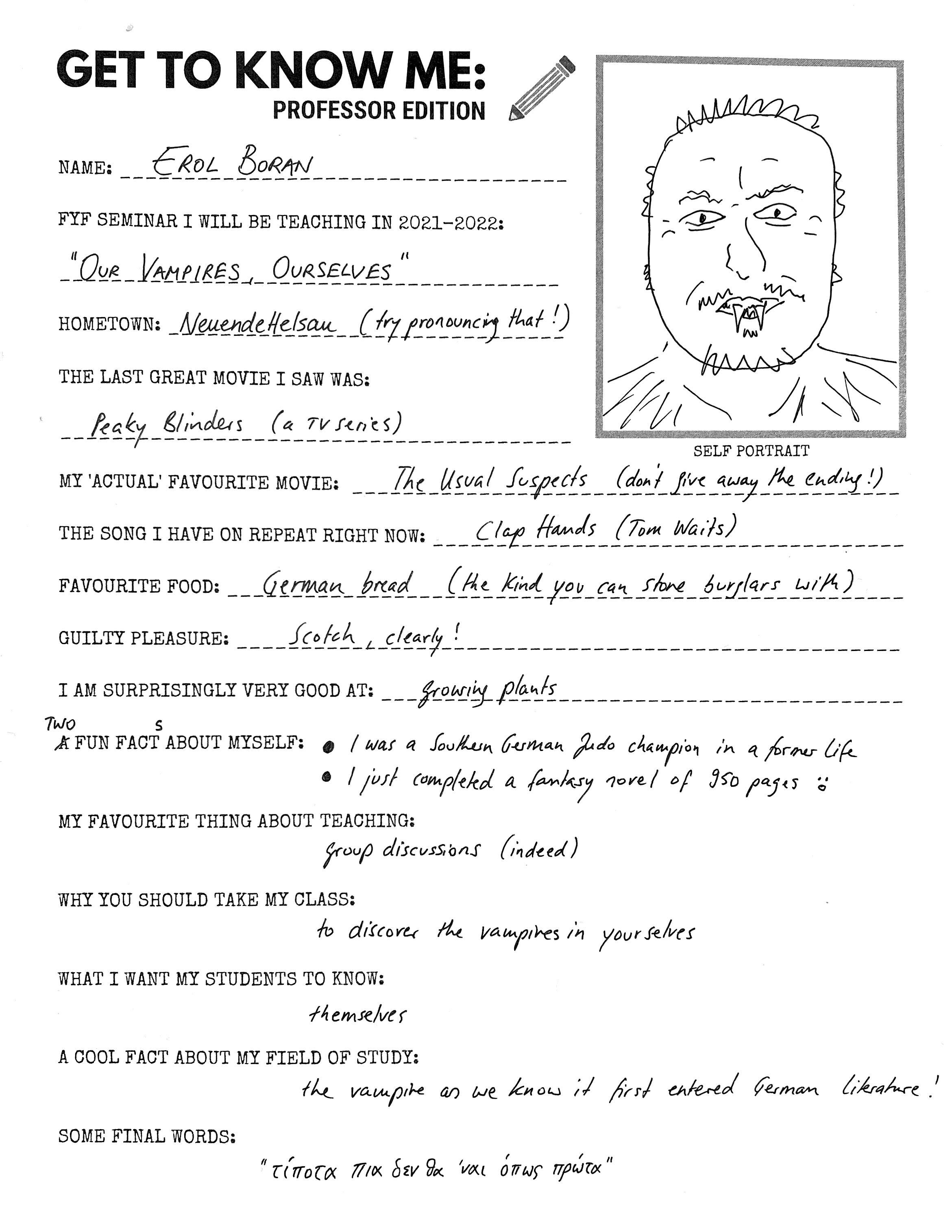 NAME: Doris Bergen
INNIS FYF SEMINAR I WILL BE TEACHING IN 2020-2021: HIS199H1S: Religion & Violence
HOMETOWN: Lacombe, Alberta
THE LAST GREAT MOVIE I SAW WAS: Parasite
MY ACTUAL FAVOURITE MOVIE: To Be or Not To Be (Lubitsch)
THE SONG I HAVE ON REPEAT RIGHT NOW: I have a hearing disability so don't really listen to music this way.
FAVOURITE FOOD: Chocolate
GUILTY PLEASURE: Red wine
I AM SURPRISINGLY VERY GOOD AT: Speed typing
A FUN FACT ABOUT MYSELF: I have taught at universities in 6 different countries.
MY FAVOURITE THING ABOUT TEACHING: Helping students find a project they really get into.
WHY YOU SHOULD TAKE MY CLASS: The subject is highly interesting and extremely important!
WHAT I WANT MY STUDENTS TO KNOW: When you look closely at any case, the relationship between religion and violence is always more complicated than it seems at first.
A COOL FACT ABOUT MY FIELD OF STUDY: Even though there is so much scholarship and so many movies and books about the Holocaust, many aspects have barely been explored (e.g.: situation of Jews in North Africa during World War II). In Genocide Studies more broadly, the number of under-examined topics is enormous.
SOME FINAL WORDS: Good luck in your first year and welcome to U of T!