This course will look broadly at the question of power and resistance in the Americas (Canada, the United States, and Latin America) through the prism of graphic novels.

Each week we will read a graphic novel related to important historical moments or events, drawing on scholarly articles to help us contextualize the novel.

We will discuss the medium of graphic novels, their history and place in the broader culture, as well as how they might help or hinder our ability to study and disseminate information about the past.

Get to know the professor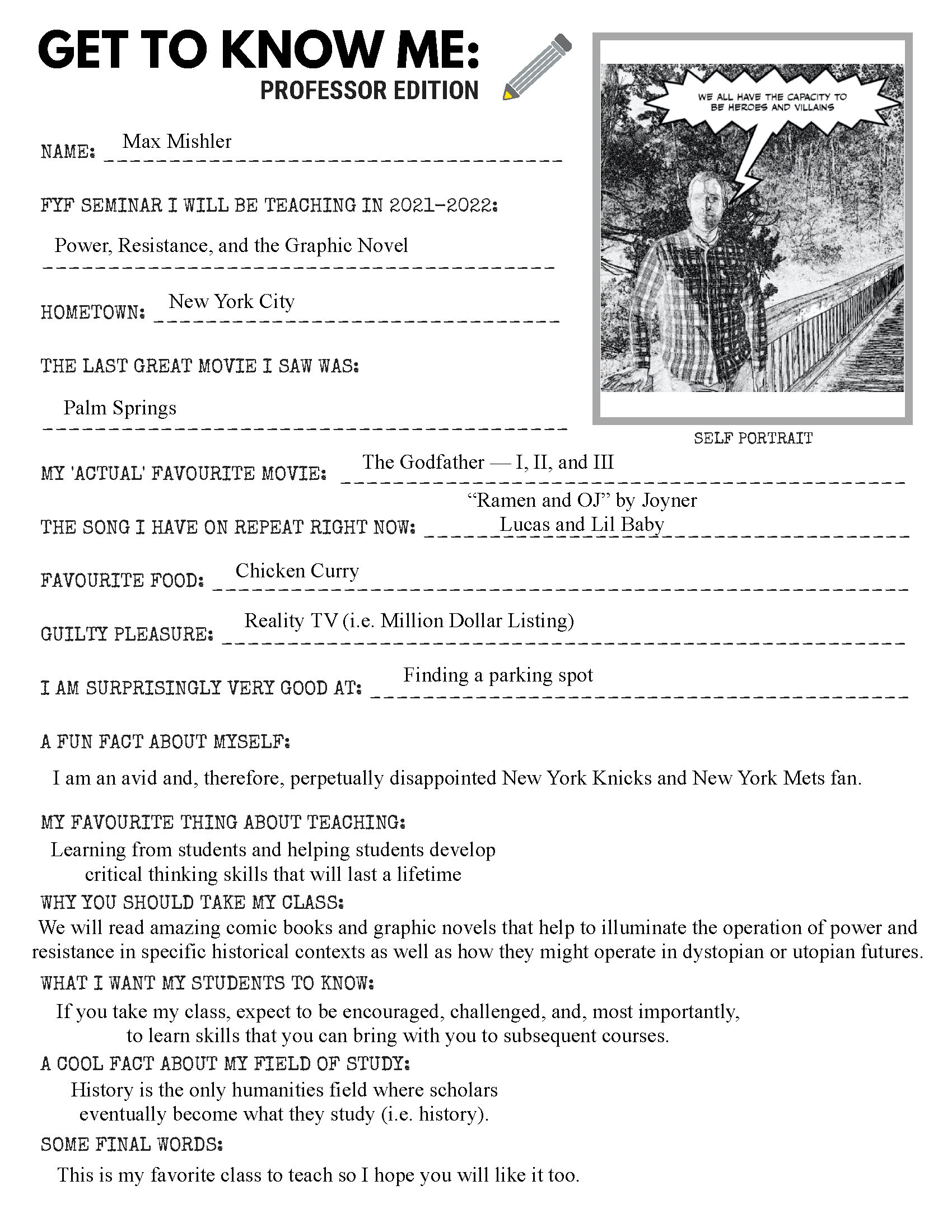 NAME: Bart Testa
INNIS FYF SEMINAR I WILL BE TEACHING IN 2020-2021: Story Worlds & The Cinema, Action Cinema, Chinese Cinemas
HOMETOWN: Toronto
THE LAST GREAT MOVIE I SAW WAS: Once Upon a Time in Hollywood
MY ACTUAL FAVOURITE MOVIE: Touch of Evil
THE SONG I HAVE ON REPEAT RIGHT NOW: "Opening" by Phillip Glass
FAVOURITE FOOD: Pizza
GUILTY PLEASURE: Zombie & vampire movies
I AM SURPRISINGLY VERY GOOD AT: Dish washing
A FUN FACT ABOUT MYSELF: I have a new puppy.
MY FAVOURITE THING ABOUT TEACHING: The actual teaching part.
WHY YOU SHOULD TAKE MY CLASS: Many opportunities to work on your writing.
WHAT I WANT MY STUDENTS TO KNOW: All writing is rewriting.
A COOL FACT ABOUT MY FIELD OF STUDY: I get paid to talk about films.
SOME FINAL WORDS: Roll credits.