Understanding disability as a cultural concept—not a medical condition or personal misfortune—that describes how human variation matters in the world, this course asks: how do literary texts represent physical and intellectual disability?

Reading drama, fiction, and poetry, we will consider how disability prompts new strategies of writing and thinking.
Get to know the professor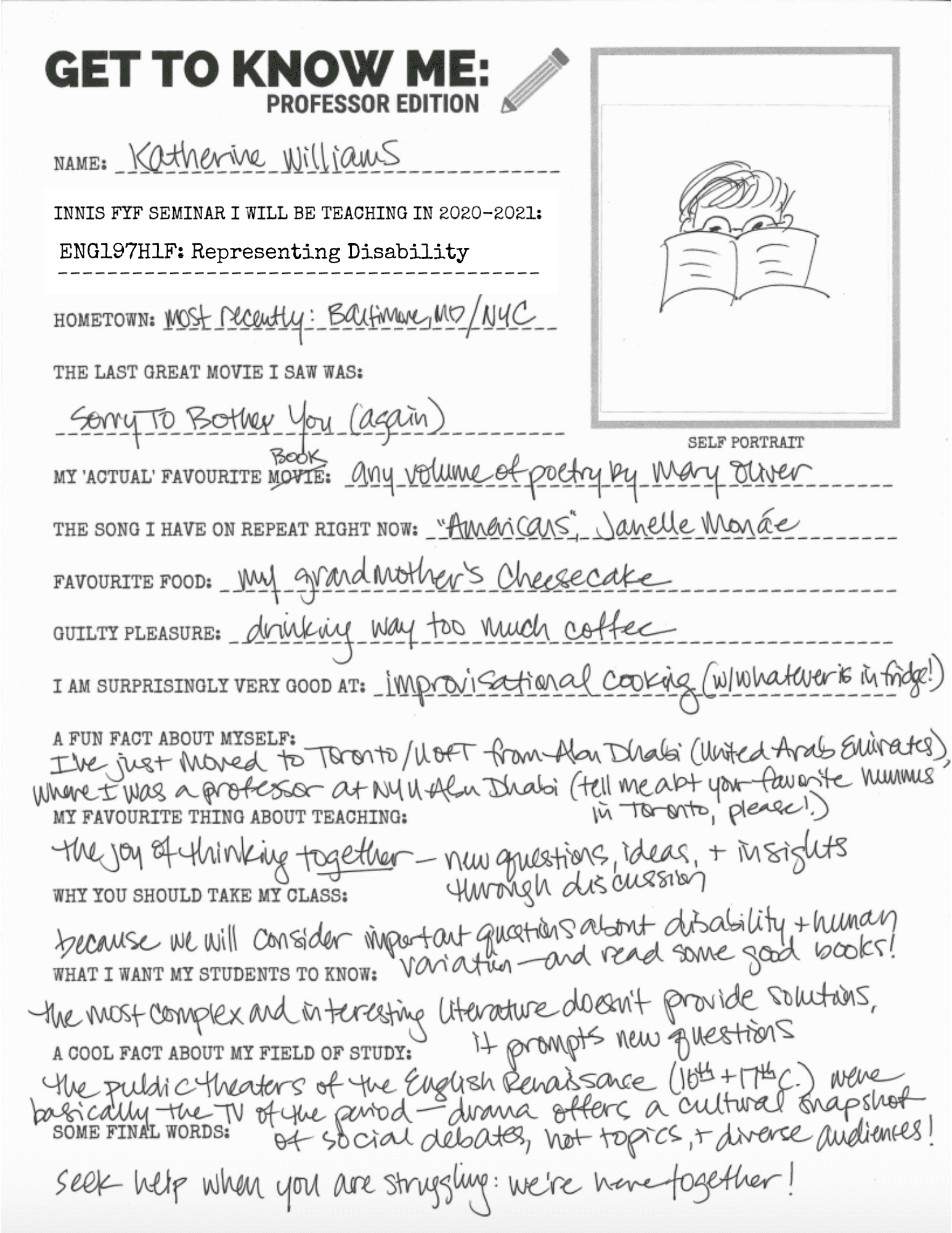 NAME: Katherine Williams
INNIS FYF SEMINAR I WILL BE TEACHING IN 2020-2021: ENG197H1F: Representing Disability
HOMETOWN: Most recently, Baltimore, MD / NYC
THE LAST GREAT MOVIE I SAW WAS: Sorry to Bother You (again)
MY ACTUAL FAVOURITE MOVIE BOOK: Any volume of poetry by Mary Oliver.
THE SONG I HAVE ON REPEAT RIGHT NOW: "Americans" by Janelle Monàe
FAVOURITE FOOD: My grandmother's cheesecake.
GUILTY PLEASURE: Drinking way too much coffee.
I AM SURPRISINGLY VERY GOOD AT: Improvisational cooking (with whatever is in the fridge).
A FUN FACT ABOUT MYSELF: I've just moved to Toronto/U of T from Abu Dhabi (United Arab Emirates), where I was a professor at NYU Abu Dhabi (tell me your favourite hummus in Toronto, please!).
MY FAVOURITE THING ABOUT TEACHING: The joy of thinking together – new questions, ideas and insights through discussion.
WHY YOU SHOULD TAKE MY CLASS: The subject is highly interesting and extremely important!
WHAT I WANT MY STUDENTS TO KNOW: Because we will consider important questions about disability & human variation – and read some good books!
A COOL FACT ABOUT MY FIELD OF STUDY: The public theaters of the English Renaissance (16th & 17th c.) were basically the TV of the period – drama offers a cultural snapshot of social debates, hot topics and diverse audiences!
SOME FINAL WORDS: Seek help when you are struggling: we're here together!