STUDENT LIFE & SUPPORT SERVICES
Have questions? There's a mentor for that.
Are you feeling a little anxious about starting first year? Do you have a ton of questions about what life is like at Innis? No need to worry, as you're now officially an Innis mentee and part of the Insider, the Innis e-mentorship program. You'll be matched with an upper-year student mentor who's been there, done that, and wants to help make your first year the best it can be.
We also have a one-to-one alumni mentorship program that pairs Innis students with alumni working in a broad range of careers. And there are other alumni mentorship opportunities for you: Innis hosts dinners throughout the year in which students share a meal and conversation with guest alumni working in various fields: you'll receive more information throughout the year on this and other events.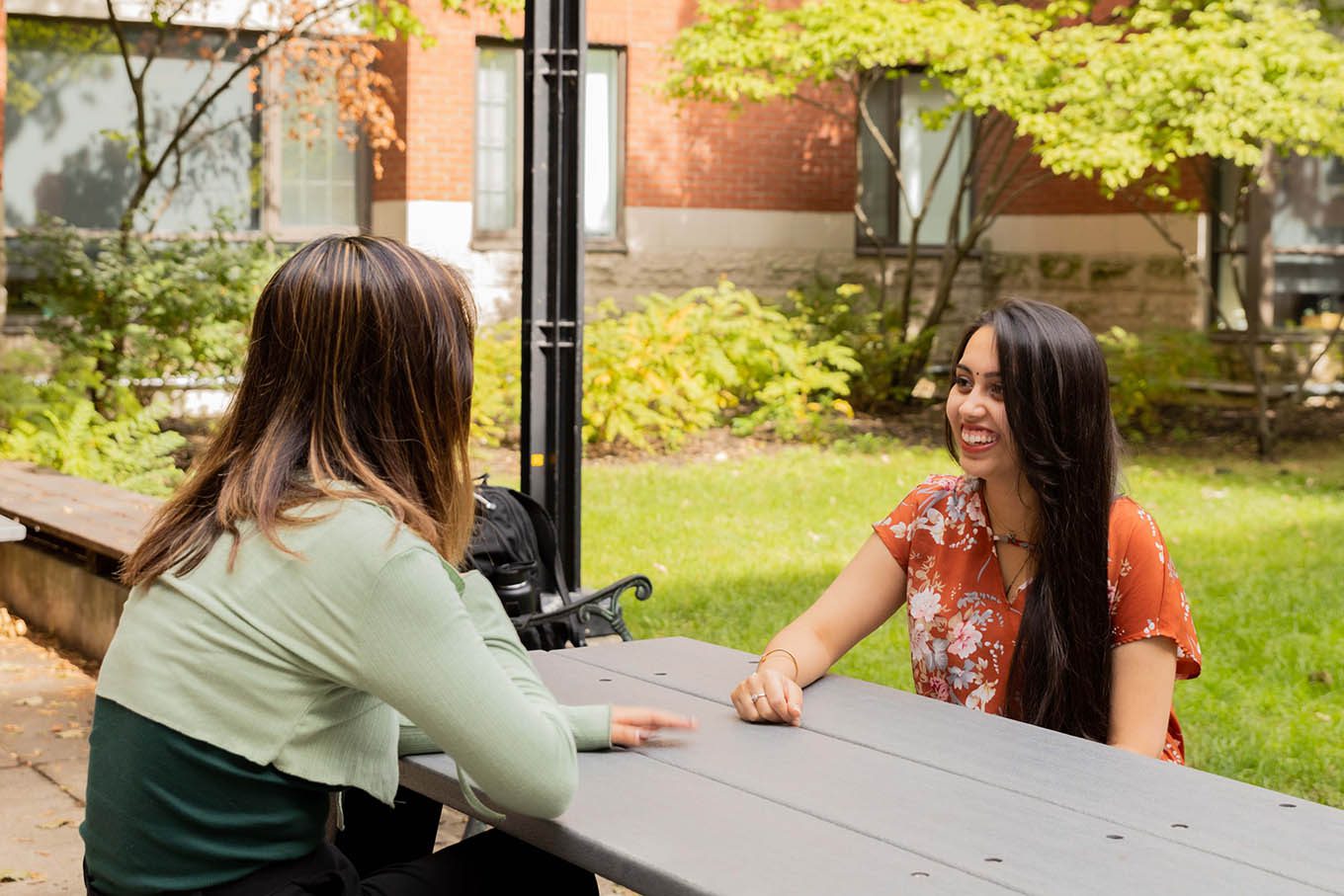 You're automatically an Insider with Innis's e-mentorship program
As an incoming Innis College student, you're automatically enrolled in The Insider: the Innis E-Mentorship Program. You'll be matched with an upper-year student mentor — most likely in your program — who will help you with the transition to university life.
Why is it great to be an Insider?
In June before the fall term you'll receive an introductory email from an upper-year Innis student mentor
Every week or two after that, you'll receive an email from your mentor that addresses a different aspect of university life (everything from academics to how to sign up for clubs)
Contact your mentor anytime throughout the summer to ask questions you may have
You'll also receive information on virtual hangouts, social meet-ups, and sessions hosted by Madi Frost, Innis's assistant dean, student life
Would you like to be a mentor?
Are you an upper-year Innis College Student?
Would you like to pass along the advice you wish you had received in first year?
Do you want to be a role model for new students while connecting with other like-minded peer mentors?
Connect, learn and grow with the Innis InSIGHT Mentorship Program
Like The Insider E-Mentorship Program, as a first-year Innis student, you're automatically enrolled in the Innis InSIGHT Mentorship Program. If you are an upper-year student and would like to enrol in InSIGHT, please email studentlife.innis@utoronto.ca for additional instructions.
InSIGHT is a continuation of The Insider, except now you're meeting in person with your same upper-year e-mentor during the fall and winter terms. And you are eligible for validation on your co-curricular record if you attend monthly meet-ups with your mentor, attend seven out of the eight mentorship workshops, and at least three socials.
You'll be able to connect with your mentor to get answers to all your questions about classes, assignments, exams, and tutorials, as well as life beyond the lecture hall — at Innis, on campus, and in Toronto.
You'll be invited to both academic and personal growth workshops, and fun socials where you can meet other students.
You're automatically enrolled; no sign up required
Continue meeting with your original e-mentor throughout the academic year
Participate in meetings, workshops, and social activities
You're eligible for co-curricular validation
If you have questions, or want to find out more about the InSIGHT Mentorship Program, please e-mail innis.insight@gmail.com.
Be mentored one-to-one by a professional from the Innis alumni community
Are you an upper-year student interested in gaining valuable career and life insights from a member of the Innis alumni-and-friends community?
The Innis Alumni Mentorship Program matches you — a mentee — with an Innis alum — your mentor — to forge what could potentially be one of the most significant relationships of your university experience.
Learn about the Alumni Mentorship program from student-mentee, Francisca, and her alumni-mentor, Jim
Your mentor will either be an Innis, Cinema Studies, Urban Studies, or Writing & Rhetoric alum, or a friend of Innis College. Mentors in the program work in many different fields, including medicine, law, media, education, film production, community development, and many other diverse fields. You'll be paired based on your stated career, academic, and personal goals.
What are the criteria for my admission to the program?
We base admission on your demonstrated commitment and desire to benefit from the program. You'll also be expected to meet with your alumni mentor at least once a month, and participate in other mentorship activities.
If you're interested in becoming a student mentee in the Innis Alumni Mentorship Program, complete the registration form here.
Innis Alumni Mentorship Handbook (for mentees)
If you're a student mentee in the Innis Alumni Mentorship Program, the Innis Mentorship Handbook has all the info you need, including important dates, conduct guidelines, goals, and a copy of the mentor-mentee agreement.