STUDENT LIFE & SUPPORT SERVICES
Have questions? There's a mentor for that.
Are you feeling a little anxious about starting first year? Do you have a ton of questions about what life is like at Innis? No need to worry, as you're now officially an Innis mentee and part of The Insider, the Innis first-year mentorship program. You'll be matched with an upper-year student mentor who's been there, done that, and wants to help make your first year the best it can be.
We also have a one-to-one alumni mentorship program that pairs Innis students with alumni working in a broad range of careers. Whether you are looking for a one-off coffee chat or a one-to-one mentor who will connect with you on a long-term basis, we're here for you. Discover expectations and possibilities for after graduation — and how to get there with an alumni mentor.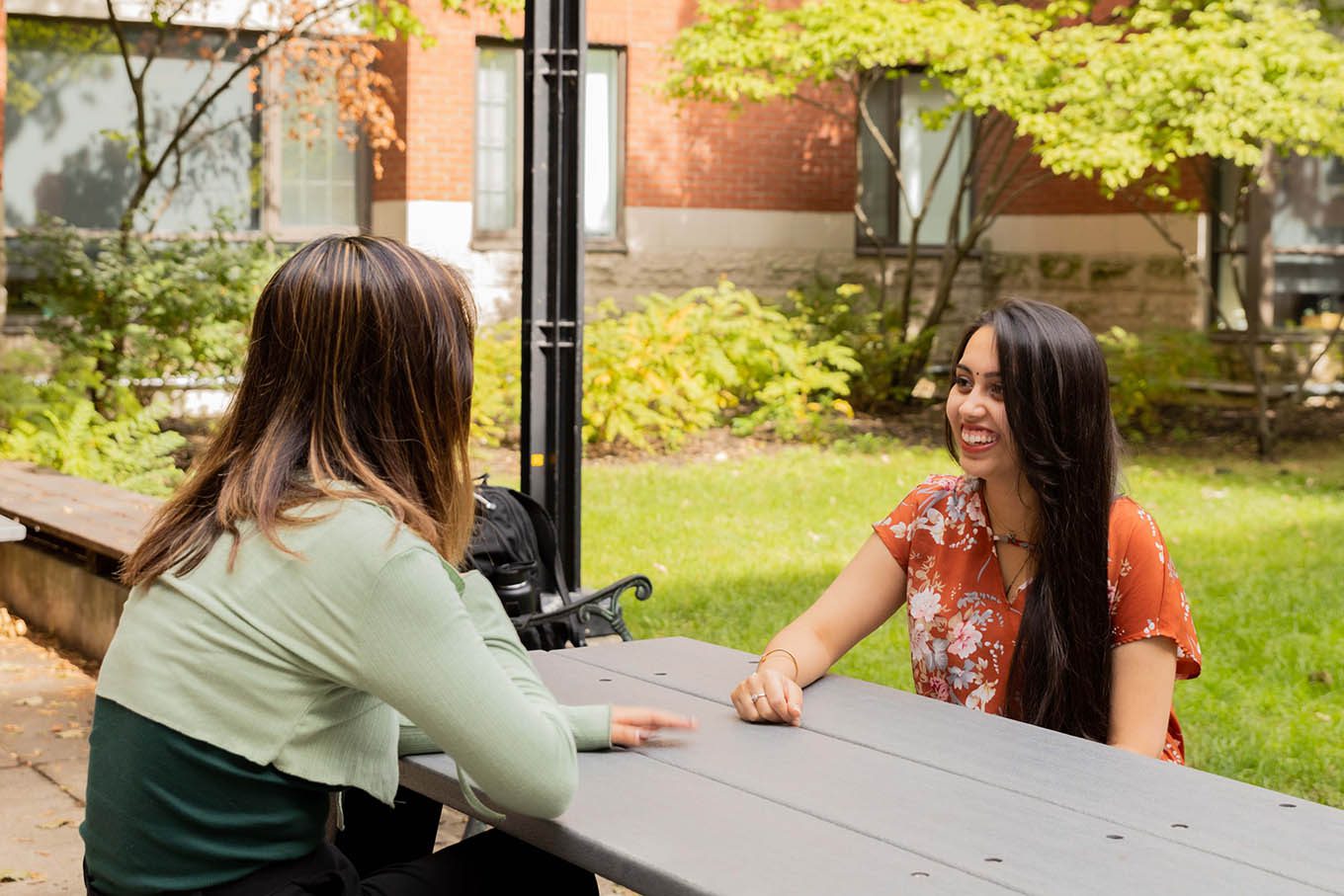 You're automatically an Insider with Innis's first-year mentorship program
As an incoming Innis College student, you're automatically enrolled in The Insider. You'll be matched with an upper-year student mentor — most likely in your program — who will help you with the transition to university life.
Why is it great to be an Insider?
In June before the fall term you'll receive an introductory email from an upper-year Innis student mentor
Every week or two after that, you'll receive an email from your mentor that addresses a different aspect of university life (everything from academics to how to sign up for clubs)
Contact your mentor anytime throughout the summer to ask questions you may have
From September to the following April, you will continue connecting with your Insider mentor
You'll also receive information on virtual and in-person hangouts, social meet-ups, and sessions hosted by your mentor and the Office of Student Life
If you have questions, or want to find out more about The Insider program, please e-mail emp.innis@utoronto.ca.
Would you like to be a mentor?
Are you an upper-year Innis College Student?
Would you like to pass along the advice you wish you had received in first year?
Do you want to be a role model for new students while connecting with other like-minded peer mentors?
Are you an upper-year student interested in gaining valuable career and life insights from a member of the Innis alumni-and-friends community?
The Innis Alumni Mentorship Program matches you — a mentee — with an Innis alum — your mentor — to forge what could potentially be one of the most significant relationships of your university experience.
Learn about the Alumni Mentorship program from student-mentee, Francisca, and her alumni-mentor, Jim
Your mentor will either be an Innis, Cinema Studies, Urban Studies, or Writing & Rhetoric alum, or a friend of Innis College. Mentors in the program work in many different fields, including medicine, law, media, education, film production, community development, and many other diverse fields. You'll be paired based on your stated career, academic, and personal goals.
A new branch of our program pairs Black students with Black alumni. Sign up for this Black Alumni Mentorship Program when registering.
If you're interested in becoming a student mentee in the Innis Alumni Mentorship Program, complete the registration form here.
The 2023/24 registration period for students is August 7 – September 10. 
Innis Alumni Mentorship Handbook (for mentees)
If you're a student mentee in the Innis Alumni Mentorship Program, the Innis Mentorship Handbook has all the info you need, including important dates, conduct guidelines, and goals.