Innis Residence houses full-time undergraduate Innis College, Arts & Science students, and a small number of Applied Science & Engineering students. The majority of residents are first-year students; the remainder are in their upper years. You'll find application instructions here for both first-year and returning students, as well as fees.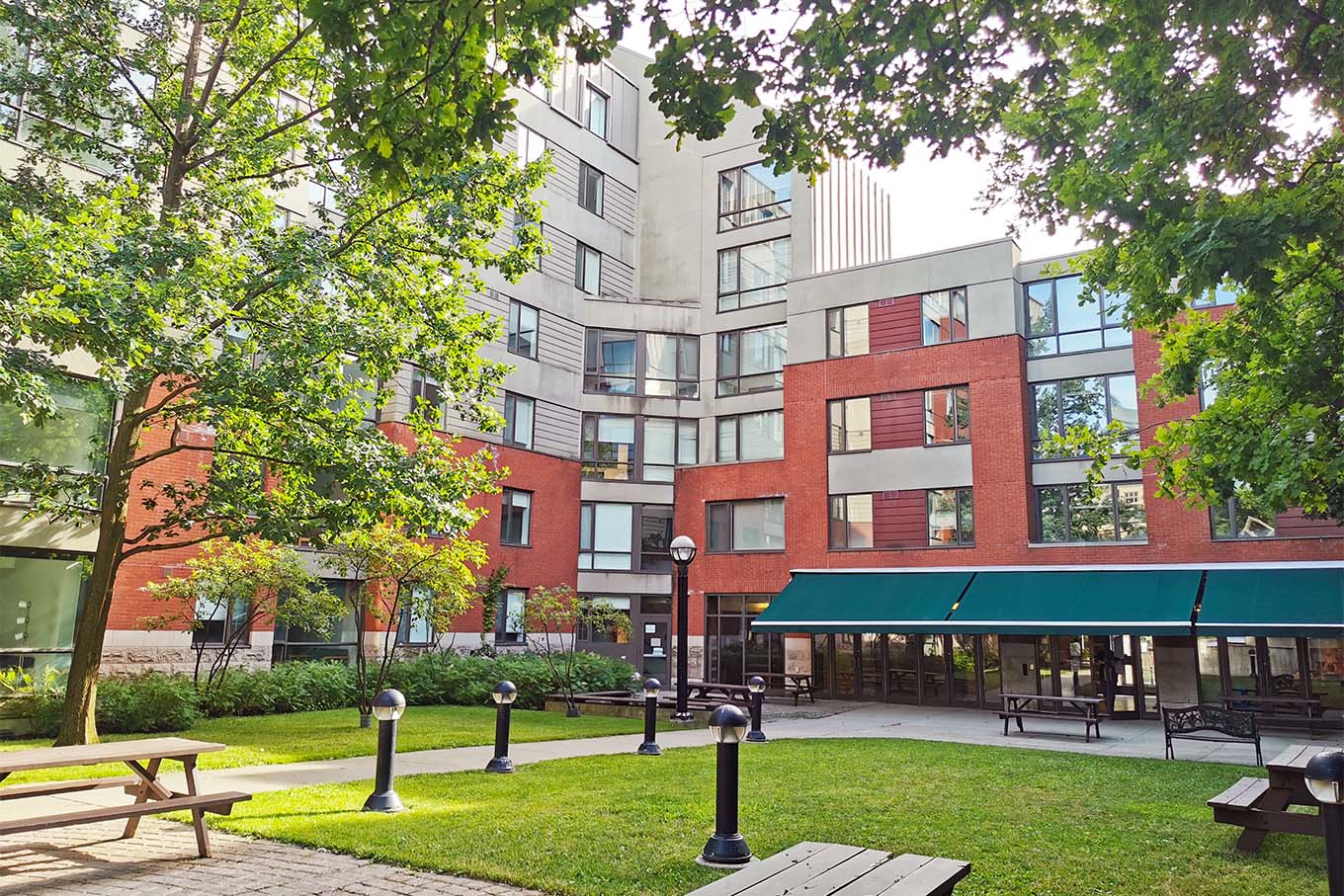 Residence is guaranteed for all new full-time U of T students entering first year in an undergraduate program for the first time, as long as you have indicated your interest in residence by completing the U of T Housing Application and received and accepted an offer of admission from U of T by the deadlines.
Although we make every effort to accommodate you at your preferred residence, you should also know that your residence guarantee may not mean that you receive your first choice of residence placement.
If you require accessible accommodations, please make an appointment with U of T Accessibility Supports at the same time as your application.
Please note that you must complete the U of T housing application by the deadline listed on your offer letter, regardless of your decision to accept your offer to the University.
Visit the StarRez site and log in using your UTORid/JOINid, which you received upon completing your application to U of T. Follow the instructions provided to you by the Housing Services Team. This step must be completed by the deadline listed on your offer letter.
Please note: indicating your interest does not mean you have to live in residence. If you indicated your interest but change your mind, you can withdraw your application, or choose not to accept an offer when you receive one.
After receiving a residence offer via email, follow the instructions by visiting StarRez, and pay your first residence deposit by the stated deadline to secure your spot. Offers will be extended on a rolling basis beginning in June.
We will email you your room and suite assignments in late August, doing our best to accommodate your preferences.
Important dates for new students
March 31, 2023 – Application deadline
Early June, 2023 – Offers sent out; first deposit of residence fees due same time as your designated offer deadline
July 14, 2023  – Second deposit due
September 3, 2023 – New student move-in day
September 30, 2023 – First residence fees instalment due
November 30, 2023 – Second instalment due
Please note that late and incomplete applications will not be considered.
Every year we reserve space in residence for upper-year students. We count on these students to be leaders within the residence community, helping to engage and support first-year students, and taking a real interest in life at Innis. Check out the eligibility requirements below to see if this is you; please note that because of limited space we cannot guarantee acceptance.
Be a current Innis resident; an Innis College student currently living at another

U of T

residence on St. George campus; or a previous Innis resident returning from a Professional Experience Year or Exchange opportunity
Be in good academic standing
Be in good financial standing with the residence and University
Intend to enrol in a minimum of 3.0 FCEs throughout the 2023/24 academic year and no less than three courses in each of the Fall and Winter terms
Undertake an Application Assessment, which takes into account the above qualifications and your residence involvement, as well as feedback from residence staff
The number of upper-year student applicants typically exceeds available space. Please review the Residence Admissions Framework for Upper-Year Students to learn more about how applications are assessed.
In order to complete this step, you will need to wait until you receive an email invitation from us (sent to the email address you listed on ACORN) to submit a returning student application.
Follow the instructions in the email. You will need to log in to StarRez where you should select "Upper-Year Returner" from the menu. All available applications will be visible to you. Complete the application in full (incomplete and/or late applications will not be accepted) and submit.
Check your email regularly throughout April and the summer (including your junk folder) to see if you have received an offer. You can also check your application status on StarRez
If you have received an offer, you will have a week to contemplate the offer and sign the occupancy agreement, if you choose to accept. A non-refundable deposit of $2,000 is due by May 31, 2023, to confirm your booking. Payment options include VISA credit, Mastercard, and American Express. VISA debit payments cannot be accepted.
Important dates for returning students
March 7, 2023 at 12 noon ET – Application deadline
March 7, 2023 – Event and meeting attendance will be assessed until this date
April 3, 2023 – Initial offers sent out and continue on a rolling basis throughout the summer
May 31, 2023 – The $2000 residence fee deposit due.
September 1, 2023 – Upper-year student move-in day
September 2, 2023 – Student Leader Day
September 30, 2023 – First residence fees instalment due
November 30, 2023 – Second instalment due
Please note that late or incomplete applications will not be considered.
The residence fee for the 2023/24 academic year is $12,145.00. Additionally, a non-refundable membership fee of $61.14 is collected on behalf of the Innis Residence Council (IRC). As you'll have access to a full kitchen in your suite, fees do not include a meal plan. Further information about meal plans is available at U of T Food Services.
You are accepted into residence with the understanding that you will remain a full-time undergraduate student and live in residence for the entire eight-month period. Should you decide to cancel and withdraw from residence you must do so in writing by e-mailing residence.innis@utoronto.ca. 
For more details on fees, cancellations, and your obligations, it's important that you read your Occupancy Agreement all the way through. You'll find specific fees information in Schedule A of the agreement. Please note that you will pay a service charge on any overdue payments.
Fee Schedule – First-Year Students
| Payment | Occupancy Fee | IRC Fee | Deadline |
| --- | --- | --- | --- |
| Deposit #1 | $1,000.00 |   | At point of offer |
| Deposit #2 | $1,000.00 |   | July 14, 2023 |
| First Instalment | $5,894.00 | $30.57 | September 30, 2023 |
| Second Instalment | $4,251.00 | $30.57 | November 30, 2023 |
Fee Schedule – Upper-Year Students
| Payment | Occupancy Fee | IRC Fee | Deadline |
| --- | --- | --- | --- |
| Deposit | $2,000.00 |   | May 31, 2023 |
| First Instalment | $5,894.00 | $30.57 | September 30, 2023 |
| Second Instalment | $4,251.00 | $30.57 | November 30, 2023 |