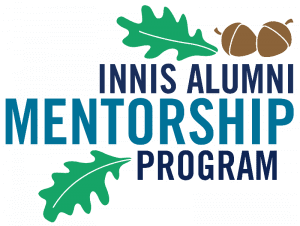 Are you an Innis alum or a friend of Innis College? Would you like to share your career and life experiences, knowledge and insights with a motivated student –- who is equally enthusiastic to express their hopes, dreams, and perspective on life?
The Innis Alumni Mentorship Program matches alumni with upper-year students in the same (or a similar or related) field. In this one-to-one program, you'll meet regularly with your mentee, and will also attend talks and workshops presented by the College.
Learn about Innis alumni mentorship from mentee and mentor Francisca and Jim
1. You're matched with a student
Based on mentee applications, we do our best to match you with an upper-year student whose program of study is aligned with your field of expertise.
2. Meet your mentee at the fall mentor-mentee event
You'll be invited to meet your mentee at Innis College during the first meet 'n greet event, usually held in October.
3. Meet regularly during the academic year
Get ready to enjoy a fun and rewarding relationship! Connect with your student — you both decide how, where, and when, meeting, at a minimum, on a monthly basis. 
Your mentee will be an Innis, Cinema Studies, Urban Studies, or Writing & Rhetoric student who has demonstrated commitment and a desire to benefit from the program. Their aspirations will be complementary to your experiences.
How will we define our goals and expectations?
Early in your mentorship, participants will complete the Mentee-Mentor Agreement. This outlines both your goals and expectations, and it will serve as a guide to ensure commitment and accountability. We also provide ongoing support if you or your mentee has questions or concerns about any aspect of the relationship.
What is the timing of the program?
The mentorship cycle runs October through to March and is launched with a reception for all program participants. You both commit to meeting at least once per month; the details are up to you and your mentee. We all come together again at the end of the program to wrap up and celebrate the experience.
Proudly sponsored by U of T affinity partners:

Discover the benefits of affinity products!
Take the next step to what could be one of your most rewarding personal and professional experiences by completing the mentorship application form here.
Is there a handbook for that?
You'll find everything you need, including important dates, goals and learning outcomes, suggested starter questions, and a copy of the Mentor-Mentee Agreement in the Mentorship Handbook.
Have more questions about mentorship?
Please contact the Innis Alumni Office:
Mentorship program sponsored by: