As an Innis alum or friend of the College, you know that Innis is a special place, a warm and supportive community committed to delivering an excellent student experience, both in the classroom and beyond.
That excellence comes not just from students, faculty, and staff, but from dedicated Innis supporters — people who understand that the Innis philosophy, spirit, and environment require an ongoing commitment to keeping them vibrant and growing.
Find out how you can contribute to the next exciting chapter in Innis history or make an online donation!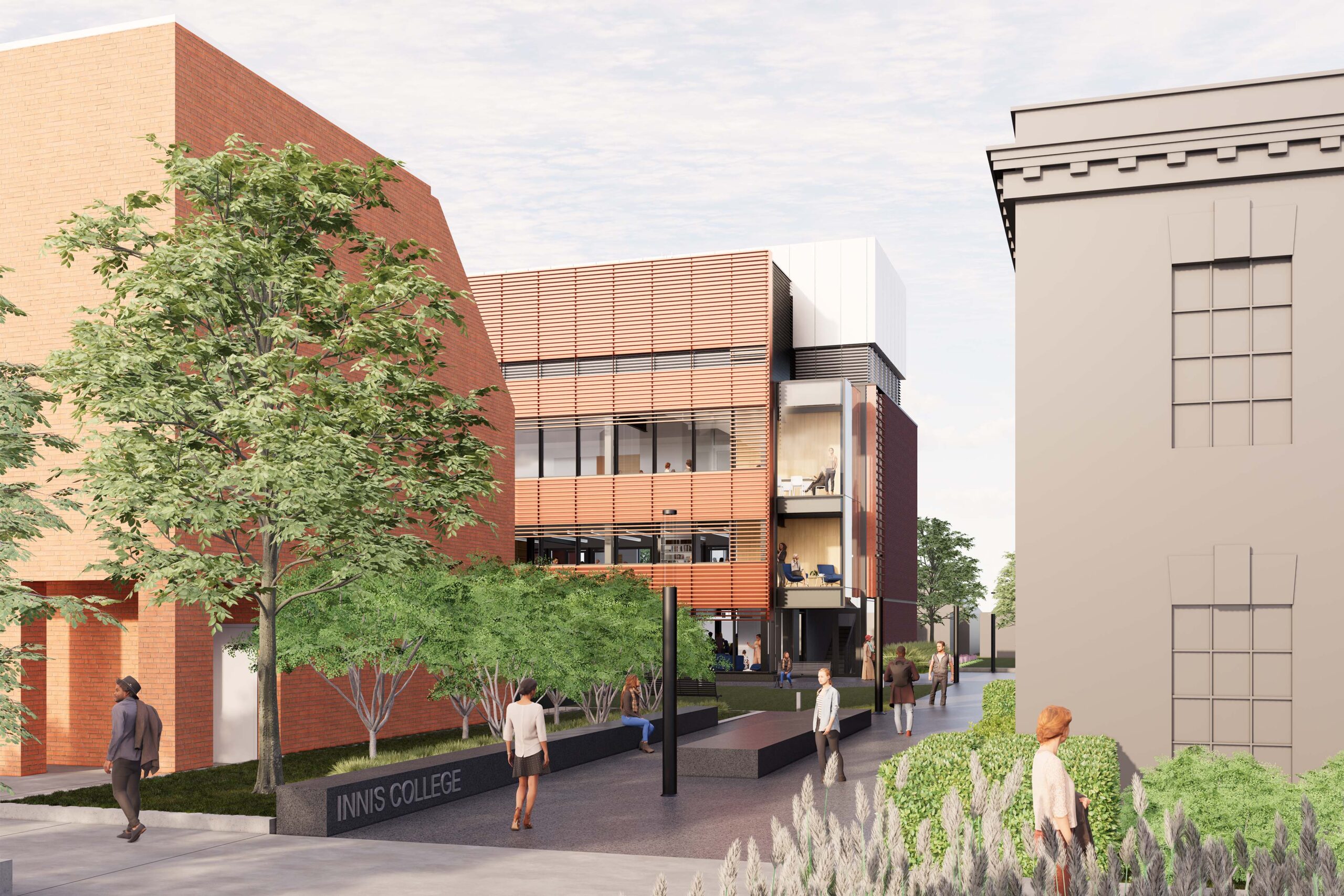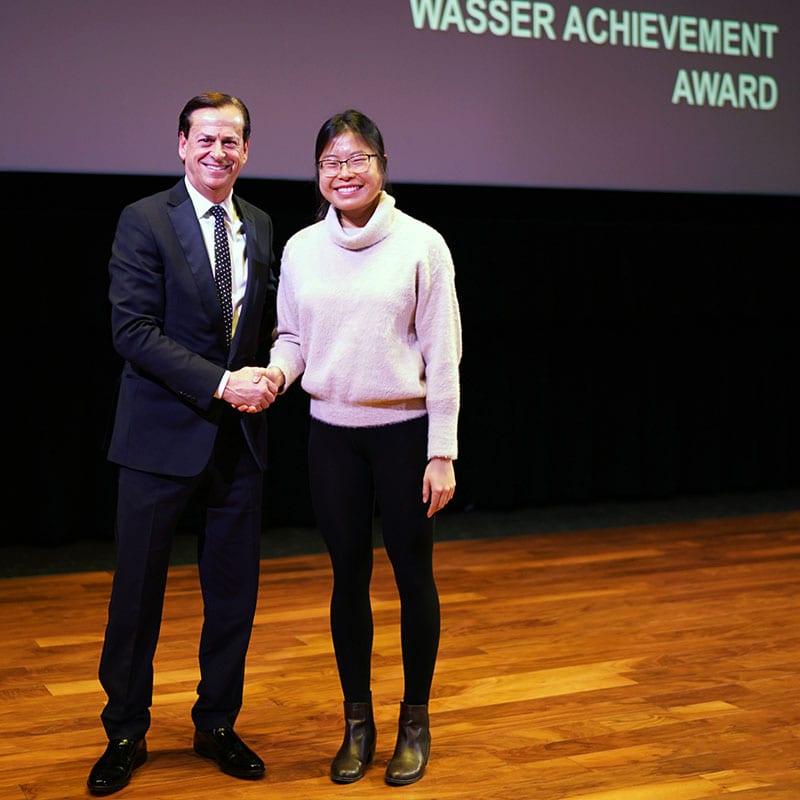 From the Urban Studies Program to the Cinema Studies Institute, from Innis's singular focus on giving students an equal voice, to its vibrant cultural and artistic engagement, Innis College attracts bright, creative, independent-thinking students who are our future leaders, innovators, influencers, and doers. But nearly one-third of students rely on student loans and require support through scholarships, awards, and bursaries.
Your gift can help fund a wide range of these priorities, alleviating students' financial burden and allowing them to succeed and thrive. Innis donors also recognize that the College, which was designed for 800 students, now attracts over 2,200 per year. Without undergoing any significant renovations and upgrades since its opening in the early 70s, the current building is bursting at the seams, and needs to be revitalized to provide an enhanced learning, teaching, and research environment.
Your donation to the new Innis College Renewal and Expansion Campaign will help make that a reality. Giving back to Innis also feels good. We celebrate all of our donors' generosity and commitment; we honour their impact as individuals and as a community.
Help write the next, most exciting chapter in Innis's history - the Campaign for the Innis College Renewal and Expansion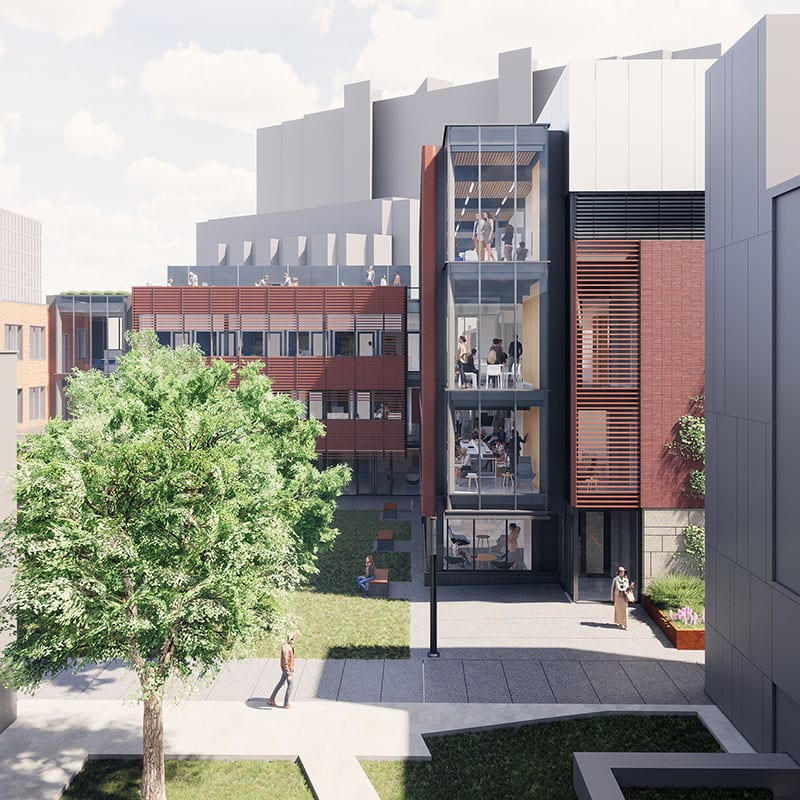 A commitment to student success and engagement is a defining hallmark of Innis College. This can only be sustained through the significant renewal and expansion of our current space, creating an environment that will fully realize our students' potential. The $10-million Campaign for the Innis College Renewal and Expansion will help make that happen:
Revitalized and new common spaces will strengthen the bonds that define Innis as a warm and supportive community.
New, centralized academic-support areas will bolster our reputation as an institution committed to learning, teaching, and research.
Dedicated spaces for student activities and services will enhance student engagement.
Uplifting architectural design will inspire while offering sustainable features that respect Innis's longstanding commitment to the environment.
Explore our Case for Support to learn why and how Innis is ready for reinvention, and how you can get involved. There are several opportunities to name a space in the College's Renewal and Expansion. To learn more, please contact Megan McDonald at 437-788-8549 or megant.mcdonald@utoronto.ca.
Project construction is underway at 2 Sussex Avenue! Track our progress here.
Support students through scholarship and award funds
Do you have a particular interest or area of focus you'd like to support? Innis has many scholarships and awards that address specific student needs. A selection of our available awards includes:
Innis Admission Award for Indigenous Peoples
Innis College Refugee Student Fund
Cinema Studies Fund
Urban Studies Fund
Cunningham Social Justice Award
Lesra Martin Student Changemaker Award
You can also make a donation to the Innis College Priority Fund, which provides support for special student programming, including academic, social, experiential, and supportive programs, as well as for improvements to student facilities and equipment.
We also offer naming opportunities to recognize and honour the generous support of those who have contributed in a significant way to the advancement of the College. We invite you to learn more about donor recognition for academic and student awards, physical spaces, and other opportunities by contacting Megan McDonald at 437-788-8549 or megant.mcdonald@utoronto.ca.
Why I support Innis: Innis donors tell their stories
The reasons Innis donors give back to their College are as diverse as they are: some want to ensure the school they love continues to offer the best educational experience for all; others are dedicated to establishing a legacy for a specific student need.
Ways to give that suit your individual circumstances
There are many tax-beneficial ways to donate to Innis; you can customize your gift to suit your life and financial circumstances, and to maximize your charitable tax-creditable deductions.
Monthly giving — A convenient way to make a big impact; donate online here
Tribute gifts — Make a gift in memory or in honour of someone special
Establish your legacy — Gift planning and bequests allow you to make a strategic and affordable charitable donation that creates maximum impact
Gifts in Kind — a gift of property, such as art collections, rare books, real estate, or other valuables
Gifts of life insurance, RRSPs, RRIFs, stocks and securities
Gifts of residual interest and charitable remainder trust
Thank you — it's donors like you who make Innis strong and vibrant
Thanks to all our donors and volunteers, who, throughout Innis's more than 50-year history, have contributed to the College's excellence.
Make a convenient, secure donation
You can make a safe and secure online donation to these funds, and discover many more opportunities, through U of T's convenient online donation portal. You can make a one-time, monthly, or payroll-deduction donation.
Have a donation question or need more info?
Thank you — it's donors like you who keep Innis strong and vibrant. Watch this video to see the difference your donation has made to an Innis student.