STUDENT LIFE & SUPPORT SERVICES
Inclusion Supports at Innis
All of us need to belong. All of us need to be welcomed, accepted, and respected for who we are within any community. Since Innis opened its doors in 1964, inclusivity of students, faculty, staff, and the wider community has always underpinned our approach to student success.
We recognize, however, that inclusivity must be intentional and directed, driven by supports, resources, and opportunities like the ones offered below. It is important that people of different races, ancestry, sex, sexual orientation, gender identity, age, ability, and faith receive equitable access to all that our community has to offer.
The following is a work in progress. We welcome your feedback.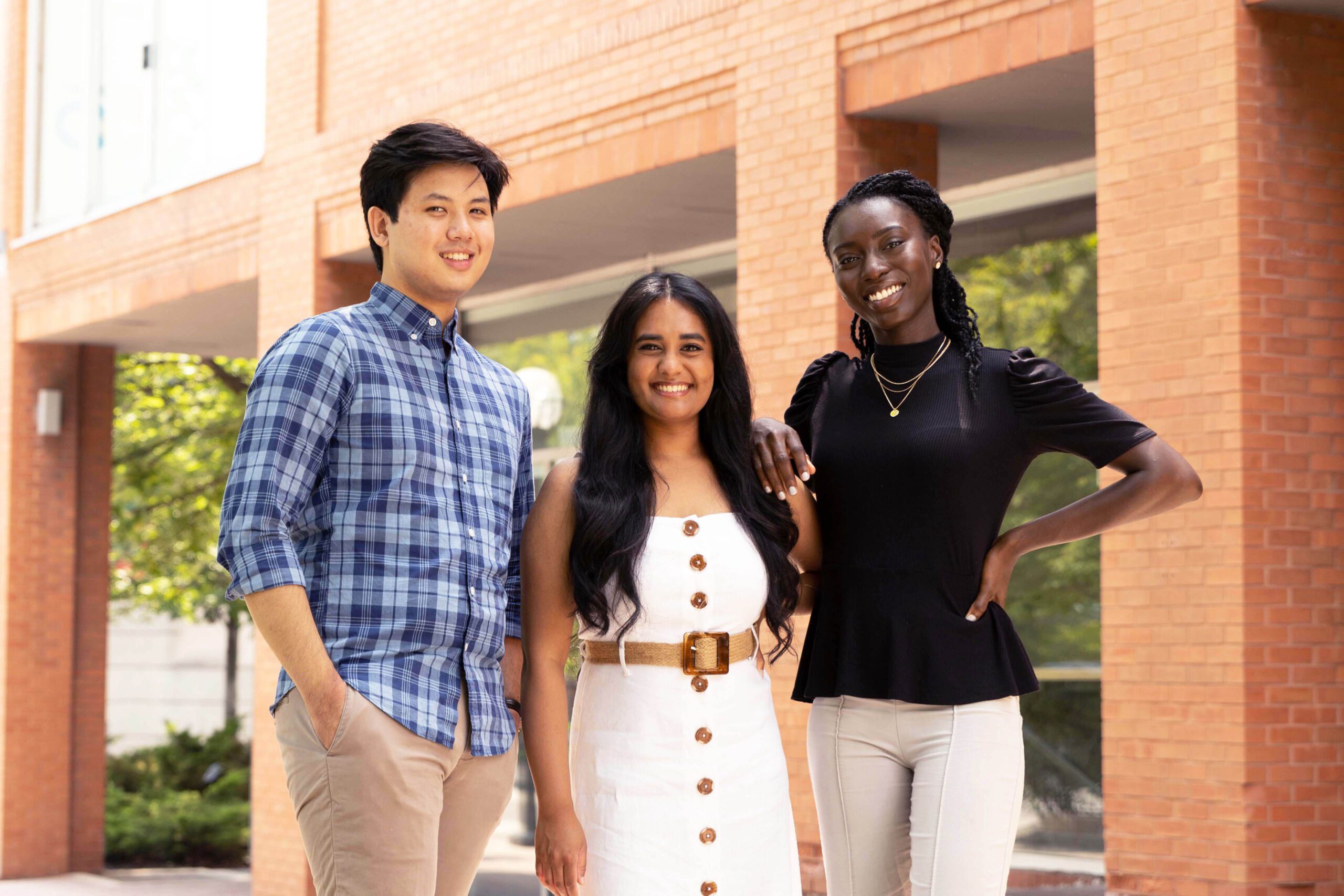 Are you an incoming Indigenous student?
If you are an incoming first-year Indigenous student in the Faculty of Arts & Science at Innis—and have good grades—you may be eligible for one of several Innis Admission Scholarships for Indigenous Peoples.
Find a barrier-free suite at Innis Residence
Beginning Fall 2022, Innis Residence will offer two apartment-style, barrier-free suites compliant with the Accessibility for Ontarians with Disabilities Act (AODA). Contact Innis Residence for more info.
Find gender-inclusive housing at Innis
Innis Residence is a safe, diverse, and inclusive space, welcoming applicants of all gender identities, also respecting a person's right not to disclose gender identity in the application process. Find out more about the residence's apartment-style suites and vibrant community.
Are you making a difference in the Black community?
If you are a returning or graduating Innis student, working on innovative ways to effect change for Black lives through your academic or co-curricular pursuits, the Lesra Martin Student Changemaker Award should be on your radar. Learn more about the award.
Are you an outstanding current Indigenous student?
If you self-identify as First Nations, Inuit, or Métis, are in your second, third, or fourth year in the Faculty of A&S at Innis, have good grades, and financial need, you may qualify for the following scholarship:
Expand your resume with a Work Study position
The Innis Registrar's Office is looking for an Indigenous digital projects coordinator. You'll join a team of writers, designers, and videographers to create content from an Indigenous student's perspective for sites like askastudent, fastforward, and
U of T
Starterkit.
Join the Black Student Experience (BSE) Working Group
Make a difference in addressing anti-Black systemic barriers; join the BSE Working Group at Innis, a committed group of Black students, alumni, faculty, and staff who have created the
Final Report Working Group on BSE at Innis
, and 24 calls to action.
Meet your LGBTQ2S+ Innis Pride community
INpride is an Innis student group dedicated to advocating for and supporting students, especially those who identify as LGBTQ2S+. You'll find a welcoming, safe, and inclusive space with events, programs and more.
Join Innis's World University Service of Canada (WUSC) Committee
You'll be joining other student leaders dedicated to providing education, employment, and empowerment opportunities for youth in more than 25 countries—and supporting the Innis Student Refugee Program.
Are you facing a disability-related barrier?
The Innis accessibility advisor is your first stop for help in navigating any disability-related barriers to your academic success. They can also provide accommodation and supports verification, and accommodation plans. Learn more at Innis Accessibility Supports.
Are you an Indigenous student living with a disability?
An dedicated Indigenous liaison is available to offer Indigenous students safe, respectful, and culturally supportive pathways through the Accessibility Services registration process.


Get involved with the Innis Refugee Student Fund
Innis hosts an annual benefit concert in support of the College's Refugee Student Fund, dedicated to helping resettled refugees in their studies at Innis. You can watch
past concerts
. To learn more, participate, or help organize, please contact us.
Black Alumni Mentorship Program
Are you an upper-year Black student interested in gaining valuable career and life insights from a Black member of the Innis alumni community? Learn more about the Innis Alumni Mentorship Program, including how to apply.
What are Black alumni doing now?
Check out fastforward, where you can search hundreds of
U of T
Arts & Science alumni profiles using several useful filters, including "Black Student," "Inside the Classroom," and "Beyond the Classroom." You'll find an incredibly diverse range of life and career journeys.
What are Indigenous alumni doing now?
Check out fastforward, where you can search hundreds of
U of T
Arts & Science alumni profiles using several useful filters, including "Indigenous Student," and "Graduation Year." You'll find an incredibly diverse range of life and career journeys.
Learn the 24 calls to action on the Black Student Experience at Innis
We need to learn more and do better: we recognize that Black students face barriers to full and equitable inclusion in our College community. This action plan - and
Principal's Report
on the Black student experience - addresses student support, anti-oppression training, and other important issues.
How is Innis honouring Black History Month?
Every February Innis joins all Canadians in honouring the legacy—and current contributions—of Black Canadians. Learn more about the diverse range of speakers, films, panels, and other events held at Innis and
U of T
. Find past events here too.
How Innis honours the National Day for Truth and Reconciliation
September 30, 2021, marked the first National Day for Truth and Reconciliation. Innis hosted a special virtual screening of Beans, a compelling coming-of-age story of a Mohawk girl caught in the Oka crisis. Learn more about the film and watch this space for 2022 events.
Join the Black Students Association
The student-run
U of T
Black Students' Association (BSA) invites you to "put down your invisible backpack and celebrate your identity" with this community of Black, African-Canadian, Afro-Caribbean and all self-identifying Black students on campus.
Find an Indigenous hub on campus
First Nations House on
U of T
's St. George campus is a culturally relevant hub for Indigenous students. It's a place to hang out, learn about Indigenous knowledges, seek guidance from Elders, and find academic and financial supports.
Find your international community at Innis
Become a part of a diverse and inclusive community of international students at Innis. You'll find all the information you need, including programs, supports, and how the Innis Student Life and Registrar's Offices can help with almost any challenge.
Join a cultural community on campus
The
U of T
student community is as big as it is diverse. This diversity is reflected among the more than 4000 culture- and identity-based clubs listed on the SOP website — including many associations and groups of racialized students.
Find your faith-based community on campus
U of T
is home to dozens of student clubs and associations that are formed around shared faiths and spiritual practices. From the Asian Christian Fellowship to the Sikh Student Association, you can find a complete list of these communities on the SOP website.
Find a peer mentor-navigator
If you are an African Black Caribbean, Latin American, Southeast Asian or first-generation student, or you have an intersectional identity, including: racialized, international, LGBTQ2S+, mature, and/or other lived identities,
U of T
's Access & Inclusion Peer Programs can connect you with a peer mentor-navigator to answer questions and provide support.
Connect with
U of T

Accessibility Services
The
U of T
Accessibility Services team has a range of supports, programs, info, and advice for students with an on-going or temporary disability, including services and resources for physical disabilities, chronic health conditions, and learning, problem solving and inclusion.
Ask for religious accommodation
The team at
U of T
's Multi-Faith Centre supports the spiritual well-being of all students through interfaith dialogue, arts, and social justice. They can also help you navigate the application process for religious accommodation. Learn more about the programs and services the centre offers.
Get help with discrimination based on sexual orientation
The Sexual & Gender Diversity Office (SGDO) at
U of T
provides free and confidential support on matters of homophobia, transphobia, and other forms of identity discrimination. They also offer advice, education, and info on any topic related to sexual and gender identity.
Report a complaint of racial harassment or discrimination
If you have experienced an incident of (direct and/or systemic) harassment and discrimination, please reach out to
U of T
's Anti-Racism & Cultural Diversity Office (ARCDO). The office also provides a range of helpful equity, diversity and inclusion supports.
Join the Innis College Student Society
Are you dedicated to representing the needs of Innis's diverse student body? Do you want to make the Innis community even more welcoming, safe, and inclusive? Get involved with the Innis College Student Society (ICSS) Equity & Outreach portfolio.
Make a difference in your Innis community
Created in response to a 2020 report on the
Black student experience
at Innis, the Equity, Diversity, Inclusion, and Accessibility (EDIA) Committee of the Innis College Council (ICC) is your opportunity to make a positive and lasting contribution to the Innis community.