REGISTRAR & ACADEMIC SERVICES
Knowing how to write well is one of the most important life skills you can possess, not just for academic success, but for reaching your potential in your future career. The Innis College Writing Centre can help you to improve your writing and editing skills, with free one-to-one instruction from experienced, supportive instructors.
When you finish your Writing Centre appointment(s), you'll feel more confident about your writing and critical thinking skills. You'll be ready to tackle your assignments knowing that you now have the tools to succeed.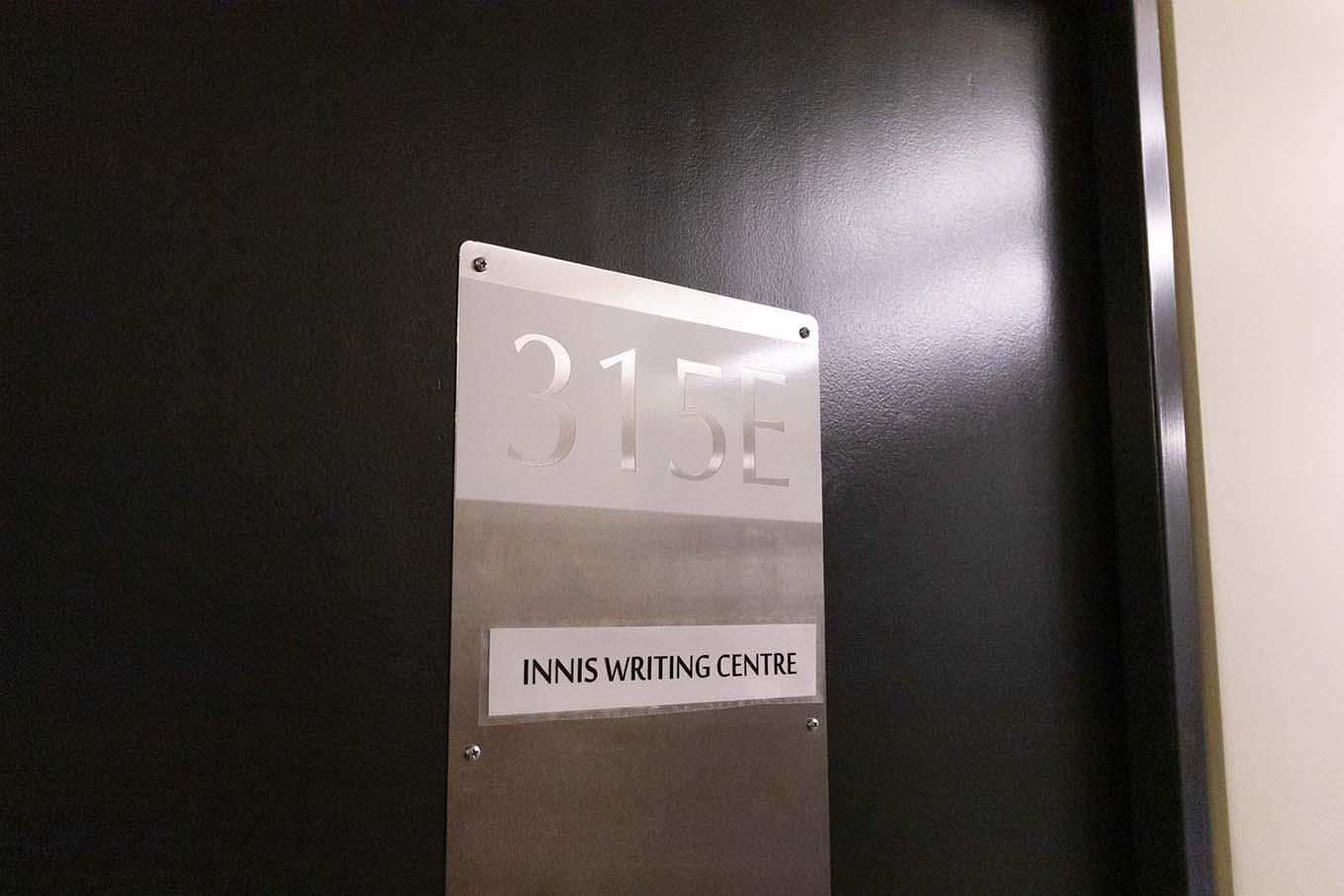 What can the Writing Centre do for me?
Who is eligible to use the Writing Centre?
All Innis College students.
Non-Innis College students who are taking a course(s) in any academic program at Innis College (e.g., Cinema Studies, Urban Studies, Writing & Rhetoric, or the Innis One Program), can use the Innis Writing Centre for assignments specifically in those courses, which include any CIN-, INI- or JIX- course or JEI206H.
What happens during an appointment?
Each appointment is 50-minutes long, and you'll be working one-to-one with an experienced instructor.
Generally, students bring a course assignment (and the assignment description) that they're working on; you can come in at any stage in the process of the assignment, even if you've not yet written a draft.
You'll get the most from your sessions if you come back regularly to work on a sequence of skills in a variety of assignments
One important thing to know is that this is NOT an editing service. The Writing Centre is a teaching service in which we use your own work as teaching material. We can't teach you everything at once, so if you want to learn as much as possible, you should make use of the service whenever you can.
What should I bring to my in-person appointment?
We're here to help you learn whatever you need to improve the writing in your assignments. Here's what you need to know:
We are maintaining physical distancing in the Writing Centre. Please bring the assignment sheet/description (if you have one) and two hard copies of the draft you are working on, printed double-spaced. Your assignment can be in any state: an outline, notes, partial draft, full draft, etc.

  You can also bring course readings for help in how to connect them to your assignment.

If you do not have hard copies, you could bring in your laptop. You and the writing instructor could then share the relevant documents online.

 

f you are a first-year student, you are encouraged to bring in an essay you wrote in high school. A writing instructor will talk to you about the expectations of university-level writing, and they will identify both the strengths and weaknesses of your prose.

 

Make sure you give yourself enough lead time to incorporate your sessions and sufficient revision/editing time.
How can Writing Centre instructors know how to help me with the content of my paper? What if I need help with ideas more than writing?
It's actually an advantage to have to explain ideas clearly to someone who is not an expert in your field of study. The Writing Centre instructors are all generalists with many years' experience teaching different forms of writing and working with undergraduates on assignments in all possible fields.
The writing instructor can help you brainstorm and generate further questions about your subject. He or she can also point out places in a draft where something seems to be missing, whether it is background information, evidence, or a logical step in an argument.
What if I'm getting good grades? Can the Writing Centre still help me?
Absolutely. We help students of all levels. We'll adjust the level of instruction upward as you progress and as you undertake more advanced assignments. Even if you often get an A on assignments, you may find it helpful to consult us during the planning and writing process and get feedback on finished drafts. Or you may simply wish to learn a little more about finer points of style.
All our instructors are experienced writers, editors, and teachers. They're passionate about helping students to become better communicators! You'll be assigned one of the following based on schedules and availability.
The Innis Writing Centre is open for in-person and online appointments. All appointments are booked through the online system. Every appointment in the system offers an online option.
Masks must be worn and physical distance from the instructor must be maintained at in-person appointments. Bring two hard copies of your paper and assignment sheet (i.e., one copy for the instructor), or bring your laptop and share relevant documents with your instructor online.
The Writing Centre offers limited appointments at the start of each semester, then opens daily starting in October, and February during the fall/winter sessions. We are also open in the spring and summer.
You can find us in rooms 315 and 321 in Innis College. (In-person appointments take place only in room 315.)
Take the stairs at the west end of the building, above the library, to the third floor, or you can take the elevator.
Appointment Cancellation / Missed Appointment Policy
If you have to cancel, please do so at least one day (24 hours) before your appointment through the online booking system.
Sessions are in high demand; often, we have a waiting list. If you miss two appointments (without cancelling), you'll be barred from making further appointments for the remainder of the academic year.
More helpful writing resources
Improve your GPA with free Writing Plus Workshops
From "Essay Writing From Start to Finish" to "Exam Prep Essentials," U of T's Writing Plus Workshops and research and writing seminars offer a series of academic skills workshops open to any U of T student. Take one, or take them all—they're free and there's no need to pre-register.
Visit Writing at
U of T

for a complete primer on writing
Everything you need to know about accessing resources on writing at U of T. Find great  advice from students and teachers, grammar guides, writing for specific disciplines,  how not to plagiarize, and even a description of all writing courses at U of T.
Improve your English-language skills
English Language Development (ELD) at U of T Scarborough has numerous useful resources, including an Academic English Health Check to help you identify your strengths and weaknesses in speaking and writing English. You'll also find workshops and other interactive resources to practice your English-language skills.