She has found her "too rare" voice as a successful director.
Dawn Wilkinson (BA '96 Innis) is an in-demand Canadian film and television director, a screenwriter and teacher, an alumna of the Norman Jewison Canadian Film Centre, and a graduate of Innis College at U of T. She has long challenged perceptions of what a director looks like and whose stories they tell. Earlier award-winning films include Devotion (2005) and Wilderness (2012). She currently focuses on television, with directorial credits including Kim's Convenience, The Good Doctor, and Riverdale.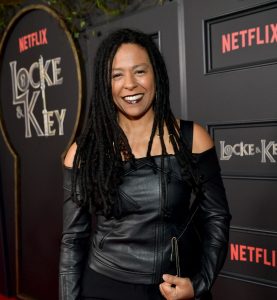 You said in a recent interview that, "the whole essence of what you're doing [as a director] is being able to access a level of creativity, so you can't be putting on an act while you're doing it." Can you give us a little insight into the connection between creativity and who you are as a woman of colour working in the film and television industry?
I use my voice as a storyteller and director to visualize and interpret the script, taking the audience on a journey that engages them emotionally, entertains them, and offers a perspective on the lives of those characters and the world they inhabit.
I don't really believe in objectivity in the purest form—I know my worldview and life experience contribute to my understanding and perspectives on the stories that I tell and how I tell them. But on a thematic level I'm more interested in what we have in common than what separates us. That said, I'm a Black woman and a director and that's still too rare in film and TV everywhere in the world. Often I find my way in through outsider characters since I relate to that.
You have an incredible list of television directorial credits, including episodes of Kim's Convenience, Riverdale, Locke & Key, Murdoch Mysteries, Degrassi: The Next Generation, and Republic of Doyle. You are also an award-winning writer/director/producer of films, including Devotion and Wilderness. Do you prefer working in one medium over the other, and if so, why?<
What I love about directing TV is that in a very short time, typically three to four weeks for one TV episode, I get to go from script to director's cut, and I get to collaborate with very talented writers, actors, producers, editors … the list goes on through all the departments. I find my way into the material, asking questions like: what is the purpose of this scene? Whose perspective is most important? What images instantly came to mind when I read it? How can I convey how the story makes me feel to the audience?
The films I've made have been very personal in nature as either real or fictional expressions of situations I've been in or questions that I have about the world. I look forward to making films and developing series that are personal in some way and that draw storytelling techniques from my TV experience. I'm working on that now!
You graduated from Innis in 1996 with a degree in women and gender and African studies. What inspired you to become a filmmaker?
I loved TV and as an only child I spent my childhood sitting in front of it, to my parent's dismay. As a teenager, I rented a VHS videotape recorder to make a documentary about the vintage clothing store I ran on Queen Street West in Toronto called Afterlife Vintage Clothing.
But it was when I took a Women and Representation film class with Professor Kay Armatage that I came to understand that a film was something that was made by someone, like a piece of art, and that person might have personal, aesthetic, or even political concerns. That class made me want to make a film of my own.
So, I took a film workshop with Phil Hoffman who introduced me to filmmaking, and it was in his workshop that I made my film Dandelions. It was shot on 16 mm and completed with a grant from Hart House Film Board. My degree gave me the theory and a context in which to understand the importance of me finding my voice and using it.