Where to start? There are so many ways to be involved at Innis: pick an ICSS (Innis College Student Society)  club, group, or organization that speaks to your interests and/or goals. While they're all different in the areas they cover, they're also identical in one important way: all offer a built-in community, a sense of belonging, and the perfect way to build friendships.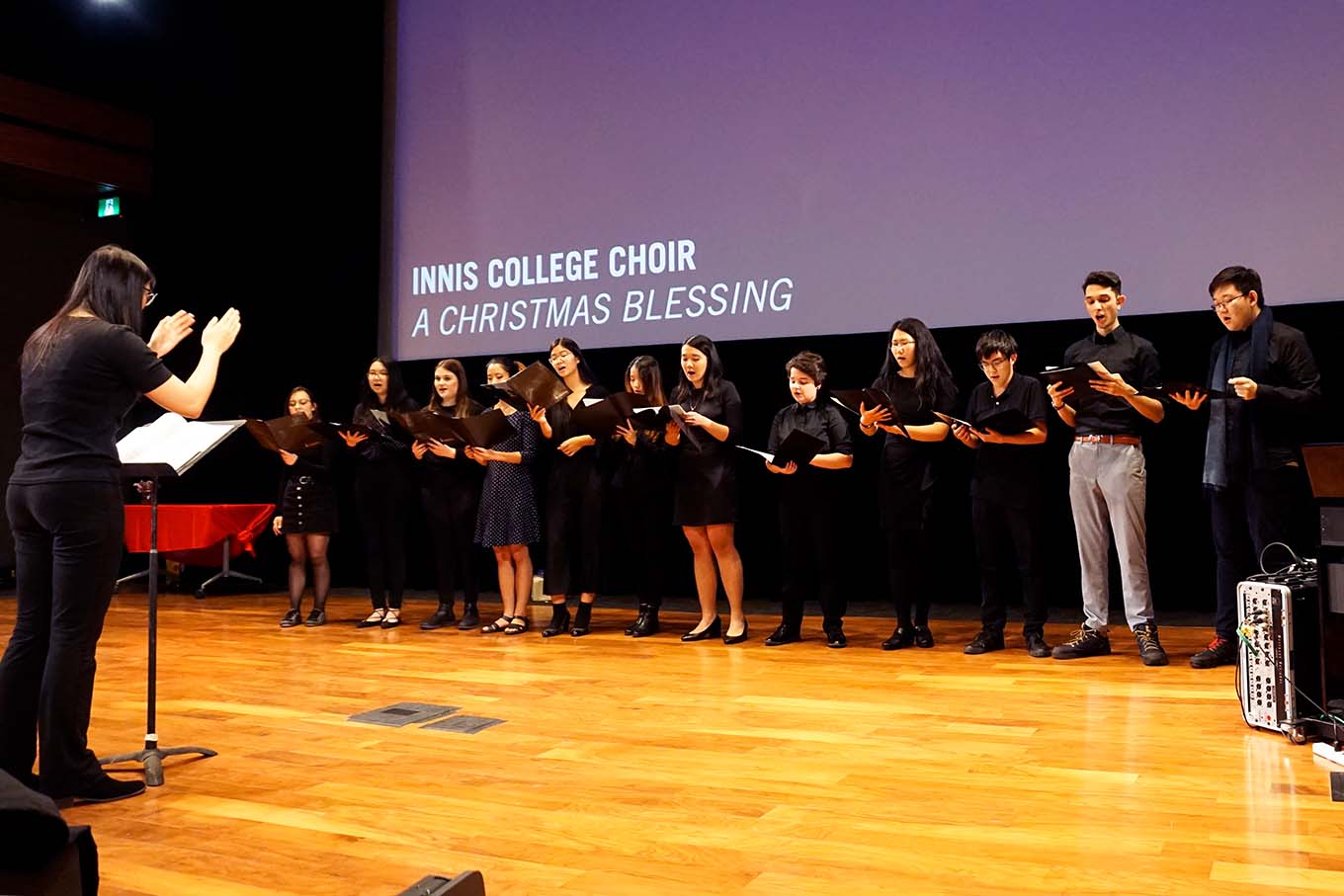 What are you interested in?
University is much more than academics; getting involved in campus life will benefit you both personally and in your future life and career. Join the club — there's one (or two or three) waiting for you!
The Innis College Council (ICC)
The Innis College Council (ICC) is the governing body at Innis College — and it's the only one at U of T that has equal representation of staff and students. All Innis students are welcome to run for a wide variety of positions and committees.
Find out more about the ICC.
The Innis College Student Society (ICSS)
The Innis College Student Society (ICSS) is an organization of elected and appointed members that represents the interests of all students at Innis College. A position on the ICSS means you could work on a number of portfolios, including Social; Equity and Outreach; Sustainability; Athletics; and Clubs and Merchandise. You could be hosting events, outings, and more! We're all about community-building, activism, and fun!
Learn more about the ICSS.
The Innis Residence Council (IRC)
If you're living in Innis Residence and want to make your space a better place, the Innis Residence Council (IRC) is a student-run body that organizes events and provides support to residence clubs and committees. Find out more about the Innis Residence Council.
Madi Frost, the assistant dean of student life, and her community development team, coordinate leadership development opportunities to help students become more confident leaders. They host a signature series known as In2U that offers three day-long workshop opportunities over the course of the year.
Workshop Opportunity 1: In2U: Pathways to Leadership. For Innis students looking to gain, brush-up, or polish key leadership skills.
Workshop Opportunity 2: In2U: Students in Leadership. We'll help you achieve your leadership potential within and outside of Innis.
Workshop Opportunity 3: In2U: Transition to Leadership. For newly elected, appointed, volunteer, or hired student-leaders to meet and learn from current student leaders.
Email us at studentlife.innis@utoronto.ca for more info on Innis leadership workshops.
We've got what you're interested in—Innis Athletics, the Innis Choir, the Friday Night Gamers, Improv Club, the Environmental Committee, Yearbook, Art Club, and open mic nights, among others. Contact us to find out more about specific Innis clubs.
And if you don't see what interests you here, check out ULife, U of T's mega-site that lists thousands of clubs, activities, groups, organizations, and opportunities across all three campuses.
Have questions about clubs or organizations?
The Innis Office of Student Life can help answer your questions, or direct you to the right person. Although the office at 111 St. George Street is currently closed to in-person visits, you can call or email us:
Would you like to start your own club? Or maybe you'd like to take a current club, group, or organization to the next level? The Office of Student Life has funding available to help you get started. Interested? Contact us at studentlife.innis@utoronto.ca