By Angelina Zahajko, Innis College student |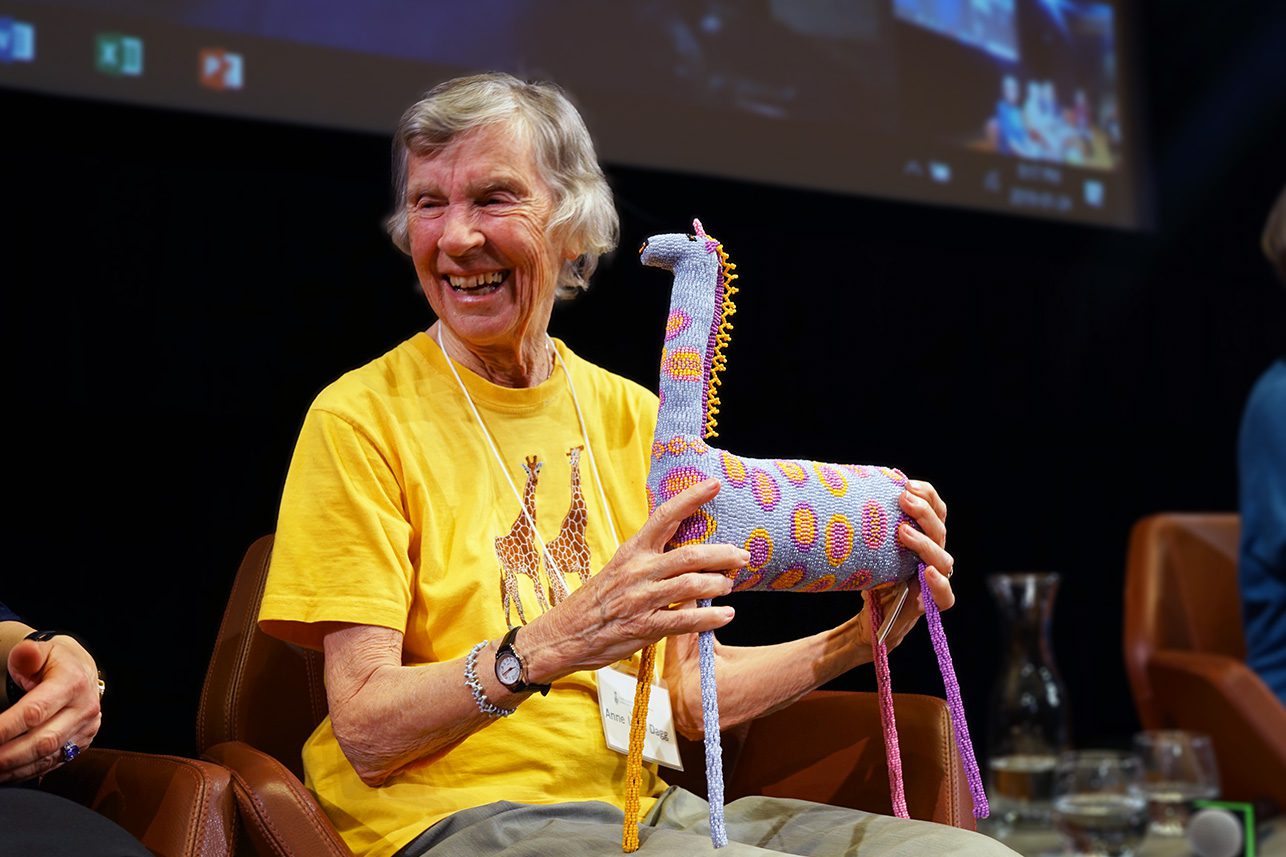 Anne Innis Dagg on stage at Innis Town Hall for a special screening of her documentary,
The Woman Who Loves Giraffes
.
Dr. Anne Innis Dagg is revered within the scientific community for her contributions to zoology, notably the study of giraffes, garnering an appointment to the Order of Canada, a feature-length documentary, and a slew of best-selling publications. Often in the shadow of this acclaim, however, is her significant work as a progressive, intersectional feminist, poet, and activist. The "Anne Innis Dagg Exhibit: Musings of a Scientist, Feminist, Activist," recently showcased at Innis College, hopes to change that.
A curation of Anne's poetry provides a lucid yet lyrical reflection on the larger feminist discourses present in Canada during the 1980s. A display of her personal artifacts (including photographs, articles, and clothing; shown below) provides intimate insight into how she has navigated the world from childhood.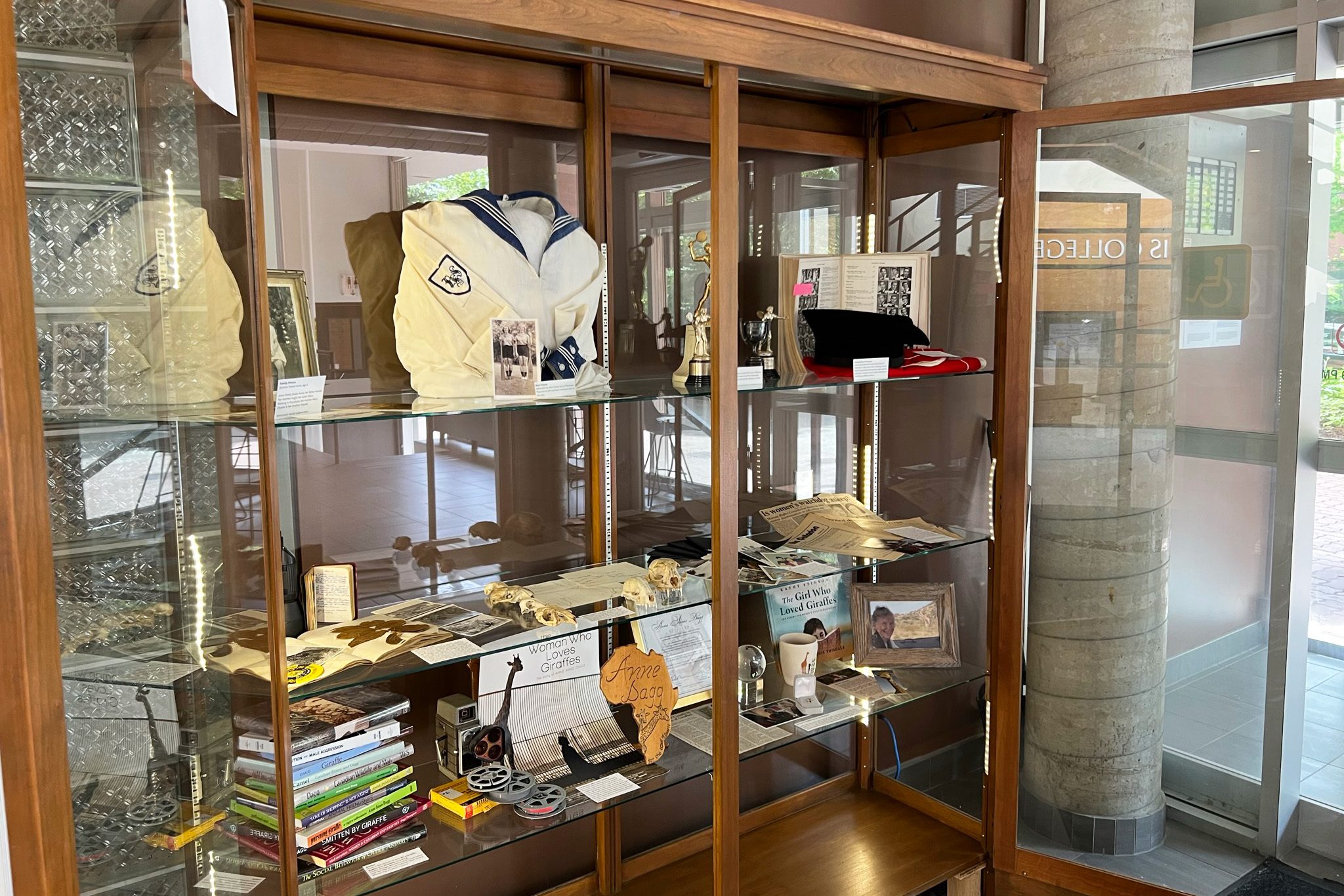 Standing in the centre of the exhibit, 50 years of pent-up observations and frustrations — distilled into short poems — wrap around you in a tight embrace. Tackling subjects like gender power dynamics in academia, gender roles, and navigating the modern world through a gendered lens, Anne's selection of work manages to articulate the universal, daily microaggressions that every woman and femme experiences, but that often gets swept under the rug within the context of large-scale intersectional feminism.
From competing in male-dominated tennis tournaments as a young girl to travelling over 13,000 kilometres by herself to conduct groundbreaking research on giraffes in South Africa, Anne has always used her headstrong, feminist sensibilities to navigate the world — even when the world tried to exclude her from these spaces. In conversation, she explained to me that her feminist outlook was shaped from a very young age by her progressive parents, authors and scholars Harold A. Innis and Mary Quayle Innis: "My parents made sure that we always did whatever we wanted — men and women were always equal."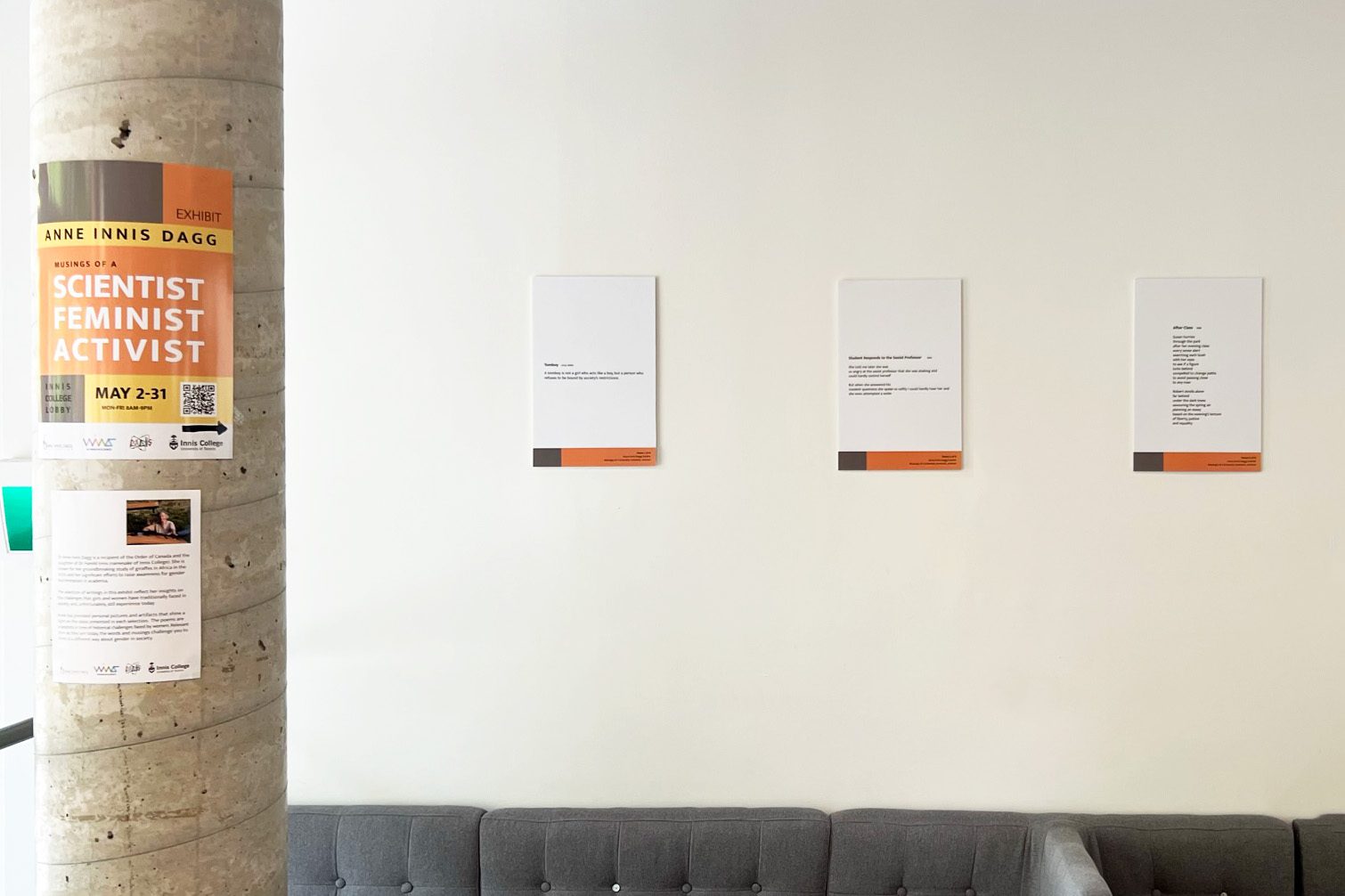 However, it was not until the 1970s when her application to become a professor was turned down by three universities, due to her gender and marital status, that her feminist activism made it into the mainstream. The poems on display at Innis College were written in the aftermath of her legal battle for equality in academia, a connection that is particularly prominent in her poem, "Student Responds to the Sexist Professor" (1986):
She told me later she was
so angry at the sexist professor that she was shaking and
could hardly control herself
But when she answered his
insolent questions she spoke so softly I could hardly hear her and
she even attempted a smile
"She's 89 years old and she's still fighting," her daughter, Mary Dagg, proudly told me. "[These poems are] not a feminist issue, they're for everybody."
The exhibit, "Anne Innis Dagg Exhibit: Musings of a Scientist, Feminist, Activist," was available for viewing in the Innis College lobby throughout May-June 2022. Next, Anne will sell her complete poetry collection: over 100 poems written over the decades, tackling an array of critical feminist topics like the subversion of gender roles, workplace equity, gender as a social construct, and women in the subaltern. All proceeds from this e-book, Perspectives: Writings on Gender Roles, Stages of Life and Reflections, will be donated to the Canadian Association of Girls in Science, Canada's largest and longest-running STEM club for girls, non-binary, and gender non-conforming youth.